"Disastrous" No Child Left Behind Law Should be Repealed, Says Prof. Ted Rueter
September 9, 2005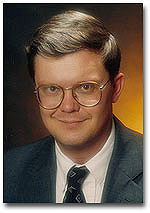 September 9, 2005, Greencastle, Ind. - "With the new academic year, school districts are once again struggling to implement the No Child Left Behind Act -- a massive federal intrusion that impedes learning, encourages dropouts, narrows the curriculum, increases anxiety, fosters academic dishonesty, and does nothing to improve schools," declares Ted Rueter. The op-ed by Rueter, assistant professor of political science at DePauw University, is published in today's edition of Indiana's Bloomington Herald-Times.
"The Act dramatically expands the federal government's role in education," Dr. Rueter continues. "It touts the goals of closing the student achievement gap, making public schools 'accountable,' establishing standards of excellence for every child, and placing a qualified teacher in every classroom. The law requires student testing -- and plenty of it."
The professor argues there's plenty wrong with that, stating, "annual high-stakes testing impedes learning. It produces rote memorization and a 'drill and grill' curriculum... Also, high-stakes testing encourages school dropouts... Students who feel they cannot pass the test -- despite repeated attempts -- see no reason to stay in school." Further, Rueter says No Child Left Behind "restricts the curriculum. It produces a narrow focus on math and reading test scores. Schools desperate to improve their
test scores are eliminating courses in art, music, speech, debate, home economics, industrial arts, history, social studies, and physical education -- as well as recess."
Rueter concludes, "Fortunately, there is an increasing state rebellion against No Child Left Behind. Connecticut has sued the U.S. Department of Education over funding support, and the Utah state legislature has ordered state officials to ignore provisions of federal law that conflict with Utah's educational goals. No Child Left Behind is a disastrous policy that deserves to be repealed."
The complete column may be accessed at College News.org.
Learn about Ted Rueter's other recent columns here, here, here, here, and here.
Source: Bloomington (Ind.) Herald-Times
Back