Vernon Jordan '57 Co-Chairing 'Global Business Coalition on HIV/AIDS' Gala
September 8, 2005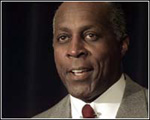 September 8, 2005, Greencastle, Ind. - Vernon Jordan '57 and his wife Ann are co-chairs of the 2005 Global Business Coalition on HIV/AIDS (GBC) Awards for Business Excellence Gala. The event will be held at the John F. Kennedy Center for the Performing Arts in New York City on September 28, 2005, and will feature keynote speeches by Secretary of State Condoleezza Rice, Senator Hillary Rodham Clinton and Academy Award-winning actress Angelina Jolie.
"GBC is very grateful to De Beers, the underwriter of the gala and to our dinner co-chairs, Mr. and Mrs. Vernon Jordan and Mr. and Mrs. James Wolfensohn," says Trevor Neilson, executive director of the GBC. "Our member companies are leading the business fight against AIDS and the gala is our opportunity to acknowledge their leadership and commitments to the pandemic."
This will be the fourth annual awards dinner for the GBC. The first, held in New York in 2002, featured former
President Bill Clinton, UN Secretary General Kofi Annan and DaimlerChrysler Chairman Juergen Schrempp. The 2003 dinner in Washington, D.C., included former Secretary of State Colin Powell, Senator Bill Frist, Senator John Kerry and Ugandan President Yoweri Museveni. Last year's dinner in Berlin featured German Chancellor Gerhard Schroeder, former World Bank President James Wolfensohn, U.S. Global AIDS Coordinator Randall Tobias and U2 lead singer Bono.
The Global Business Coalition on HIV/AIDS is the pre-eminent organization leading the business fight against HIV/AIDS. Read more about the event by clicking here.
Vernon Jordan is senior managing director of Lazard LLC and former president of the National Urban League, and will be back on the DePauw campus September 15-17 for DePauw Discourse 2005, which he is serving as honorary co-chair of. He is among the contributors to a new book, Finding Martha's Vineyard: African-Americans at Home on an Island. Read more in this previous story.
Back