Former VP Dan Quayle '69 Discusses Hurricane Relief at Charity Event
September 8, 2005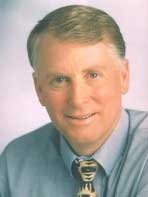 September 8, 2005, Greencastle, Ind. - Dan Quayle, America's 44th Vice President and 1969 graduate of DePauw University, is back in Indiana for a fundraiser and anxious to help in efforts to aid victims of Hurricane Katrina. "I spoke with President Bush 41... to see what I can do, what people in Phoenix, Arizona can do, what people in Indiana can do, because this will be a nationwide effort to rebuild New Orleans and the whole Gulf Coast," Quayle told Fort Wayne CBS affilate WANE-TV. Quayle is participating in the 11th annual Quayle Center Classic. "The charity golf tournament raises money for the Dan Quayle Center and Museum in Huntington," the television station reports.
"My daughter and her husband live in New Orleans and they've been staying with us for the last week," Quayle says. "It's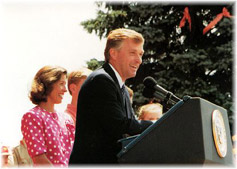 been a roller coaster. They haven't been able to return to New Orleans, they don't know when they'll be able to go back. My daughter runs charter schools down there. When she goes back, she doesn't even know if she's gonna have a job."
The station reports, "As for the government's response to the tragedy, which many have criticized as too slow, Quayle says the people advising the president probably underestimated the impact of the storm. But like so many of the people closely tied to the current administration, Quayle says the focus now should be on moving forward and getting help into the affected area as quickly as possible."
Read the complete story by clicking here.
Back