High-Energy Contemporary Jazz of Hippus Campus at The Duck Thursday
September 14, 2005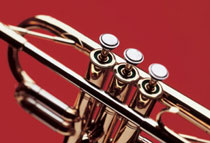 September 14, 2005, Greencastle, Ind. - The jazz sextet Hippus Campus will perform on Thursday, September 15th as a part of DePauw Jazz at the Duck. Beginning at 9 p.m. and continuing until 11:30 at Walden Inn's Fluttering Duck, the show is free and open to the public.
Featuring post-bop standards, intriguing arrangements and original compositions, Hippus Campus provides a unique and high-energy brand of jazz. Much of the music combines funk, Afro-Cuban and world music, while keeping its roots in the jazz idiom. Many of the group's arrangements and originals are provided by bassist Paul Musser, who is also a DePauw professor and director of the DePauw Jazz at the Duck series. Also included in this talented ensemble are trumpeter Nate Hatcher, saxophonist Casey Fitzpatrick, trombonist Dave Dickey, pianist Dan Hollander and drummer Chris Baker.
"The group was formed over four years ago as a vehicle for us
to perform and grow musically, while we were all students at the University of Illinois," says Musser (seen at right). "Their willingness to rehearse and play many of my arrangements and originals has been especially rewarding for me and something that I'll always appreciate."
An active composer, arranger and jazz bassist, whose interests extend to the worlds of twentieth-century American art music and ethnomusicology, Musser is also director of Marketing and assistant to the Dean at DePauw's School of Music. Notable professional combo appearances include engagements with legendary trumpeter Jon Faddis, Grammy-winner and tenor saxophonist Chip McNeill, DePauw director of jazz studies and saxophonist Randy Salman as well as several dates featuring his own compositions under his name. Paul's father, Tom, is also a professor of economics and management at DePauw.
Visit the DePauw School of Music online by clicking here.
Back