Indianapolis Star Recalls Spike Lee's "Wonderful Speech" at DePauw in Wake of Purdue Cancellation
September 14, 2005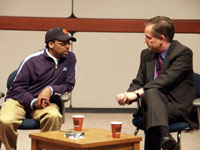 September 14, 2005, Greencastle, Ind. - Filmmaker Spike Lee "spoke at DePauw University in April 2003 and was a big hit, according to university spokesman Ken Owen," writes the Indianapolis Star's Susan Guyett in her "Talk of Our Town" column today. The item notes Lee's cancellation of a speech at Purdue University that was scheduled for tomorrow. "Owen remembers that booking agents warned him Lee had a reputation for cancellations. Lee showed as planned, gave a wonderful speech and spent a lot of time with the students, Owen said." (photo at left shows Lee and Owen at the guest's session with the media before his speech at DePauw)
Access the column at the newspaper's Web site. Read an account of Spike Lee's April 3, 2003 visit to DePauw, and access photos and audio and video clips, by clicking here.
A 1982 graduate of DePauw, Ken Owen is the University's director of media
relations and coordinates the Timothy and Sharon Ubben Lecture Series, which brought Lee and Ambassador Paul Bremer (seen being greeted by Owen at right), among others, to the Greencastle campus. Next Wednesday, September 21, author Naomi Wolf will deliver an Ubben Lecture on "Hooking Up." The series will welcome former Soviet leader Mikhail Gorbachev to DePauw on October 27.
All Ubben Lectures are free and open to the public. To view a complete roster of speakers, with links to articles and audio and video clips, click here.
Back