Disaster "Much, Much Worse Than Katrina" is Very Possible, 9/11 Commission Co-Chair Lee Hamilton '52 Says
September 14, 2005
September 14, 2005, Greencastle, Ind. - "We could easily have a disaster much, much worse than Katrina," 9/11 co-chairman and 1952 DePauw University graduate Lee H. Hamilton tells the Christian Science Monitor. In a story that will appear in tomorrow's edition of the newspaper, David Cook writes, "The greatest risks to the nation, [Hamilton] says, are a nuclear weapon exploding in a populated area and a biological attack on the food supply."
The text continues, 'In setting priorities, you have to prepare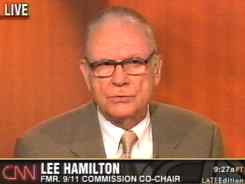 for the worst cases,' Hamilton said. Given the other threats the United States faces, 'I think we have overdone it, personally,' by spending an estimated $20 billion to protect passengers and crew on commercial airlines. 'We are not preparing for other kinds of threats that would be far more devastating.'"
Read the article by clicking here. Lee Hamilton, who served 34 years in Congress, was a guest on CNN's Late Edition Sunday morning, the four-year anniversary of the terror attacks on America. A video clip of that program can be accessed in this previous story.
Back