NPR Affiliate Covers Filmmaker Keith Beauchamp's DePauw Visit
September 15, 2005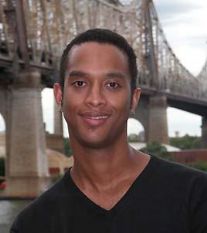 September 15, 2005, Greencastle, Ind. - "The 50-year-old murder case of Emmett Till comes to the campus of DePauw University in Greencastle," reported Bloomington, Indiana National Public Radio affiliate WFIU in a story on Tuesday's visit by documentary filmmaker Keith Beauchamp. The report continued, "Till was the 14-year-old African-American who was brutally killed in Mississippi in 1955, reportedly for whistling at a white woman. Beauchamp, who spent ten years producing The Untold Story of Emmett Louis Till, says the case has always had a hold over him, and says Emmett Till's story resonates with a lot of African-Americans decades after his death."

[Download Audio: "The Wake-Up Call" - 23kb] "Two weeks before my high school graduation I had my own run-in with racism, or wake-up call I should say," Beauchamp told the radio station in a telephone interview. "I was actually beat up by undercover police officers for dancing with a white girl, who was a friend of mine. That's what inspired me to put myself in a position to make sure that these types of acts never happen to a person of color."
In the spring of 2004, the U.S. Justice Department reopened the Till case. Beauchamp says his film has uncovered as many as 15 people who may have been involved in the murder. The radio station noted that Beauchamp screened his film

"in the Watson Forum of the Pulliam Center for Contemporary Media on the DePauw campus. Beauchamp says the film will open nationally on October 14th, in nine cities."
Read more about Keith Beauchamp and The Untold Story of Emmett Louis Till in this previous story.
Visit WFIU online by clicking here.
Source: WFIU (NPR)/Bloomington, Ind.
Back