United Nations "Urgently Needs Reform," Paul Volcker Says in Opening Session of DePauw Discourse 2005
September 15, 2005
Also: Samantha Power Discusses Genocide and the State of Human Rights; Presidential Aide Liza Wright Discusses White House Hiring and "Cronyism"; Vernon Jordan '57, Fr. Richard McBrien and Former US Senator Birch Bayh Deliberate 'Civility and Politics'; DePauw Discourse 2005 Web Site; DePauw Discourse Photo Gallery
September 15, 2005, Greencastle, Ind. - "The United Nations, or something like it, is an essential institution in today's world," says Paul Volcker, chairman of the Independent Inquiry Committee into the United Nations Oil-for-Food Program and former chairman of the Federal Reserve. But at tonight's opening session of DePauw Discourse 2005 -- which is focusing on issues of ethics and leadership -- Volcker declared the U.N. is in dire need of reform.
Last week, Volcker delivered his committee's final report to the U.N. Security Council, a year-long investigation which documented corruption within the oil-for-food program. Tonight in Meharry Hall of historic East College, Volcker stated,

[Download Audio: "Undermining Legitimacy" - 187kb] "The simple fact is that the cheating, the corruption, the absence of disciplined administration has cost the United Nations grievously. Its competence [and] its honesty has been called into question. As a result, its c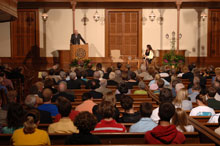 redibility is undermined. And, if its competence and its credibility is undermined, so, inevitably, is any sense of its legitimacy."
Volcker noted the U.N. is currently engaged in 17 peacekeeping programs, and coordinated the tsunami relief efforts in South Asia.

[Download Audio: "The U.N.'s Value" - 293kb] "It's too much to expect that crises of that sort -- whether its New Orleans or the U.N. oil-for-food program -- is going to be met with measures that, in retrospect, look perfect; that these institutions are gonna pass every test with an A+," Volcker told the crowd that filled the hall. "But, nonetheless, there has to be confidence that it can be done with real competence, with real experience and with real integrity. And for most of the time, no one else -- no single government, no non-governmental organization -- has the same range of skills, the same knowledge, the same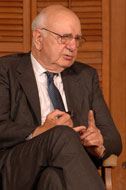 experience, and the same legitimacy to step in and do it better.

[Download Audio: "The Need for Reform" - 239kb] And that to my mind is why the United Nations so urgently needs reform."
The agency, Volcker continued, "needs to be reformed not just in a way to improve its management and its controls and its auditing -- all of which is very true. Those are necessary tools, but they are technical. Above and beyond that, there had better be a recognition of high ethical standards; standards that need to permeate the organization from the bottom to the top."
Appointed by President Jimmy Carter in 1979 as chairman of the Board of Governors of the Federal Reserve System, a role he served in until 1987 (he was reappointed by President Ronald Reagan in 1983), Paul Volcker was a major architect of America's financial and economic policy. Volcker, who appeared on the cover of TIME magazine in October 1979, is largely credited with putting an end to runaway inflation and laying the foundation for the extended prosperity
of the past two decades.
In 1999, he headed an official panel that investigated Swiss banks' handling of the accounts of Holocaust victims. Volcker became chairman of the International Accounting Standards Committee Foundation in 2000 and, in the wake of the Enron bankruptcy, headed an independent oversight board at Arthur Anderson, the accounting firm that was responsible for auditing Enron.
He told his DePauw audience that in the United States, "with our deeply rooted religious traditions and ethical standards, with our great wealth and charitable instincts," it is puzzling

[Download Audio: "An Uncomfortable Fit" - 66kb] why "the word 'ethics' and 'leadership' somehow don't seem to fit so comfortably together." Volcker continued, "I know here in the heartland of America the instinct to do good as well as to do well is still alive. That's even true in New York and Los Angeles and most places in between.

[Download Audio: "Something is Amiss" - 117kb] But we've seen enough of scandals and corruption to know something is amiss -- that some basic values seem to be eroding. And if that's true in the United States, how much more is it characteristic of other places and other countries."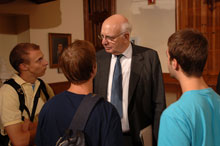 Volcker, who delivered The Timothy and Sharon Ubben Lecture at DePauw in October 2003, asserted, "There is close to unanamity among those concerned with economic growth in the developing world that the greatest enemy is corruption, lack of respect for the role of law, and political favoritism."
In conclusion, he said,

[Download Audio: "A Catalyst for Needed Reform" - 580kb] "Proud businesses, important businesses, seemingly profitable businesses have fallen... not because of lapses in accounting, or because they hid bad news, or because of excessive greed. All of those things are true enough, but they're all symptoms of a larger and more insidious failing -- a simple neglect of the ethical standards, of personal standards that leaders should seek to maintain in their own institutions, whether those institutions are public or private... for which they have responsibility. That, it seems to me, is the underlying lesson of Enron, and Tyco, and WorldCom, AIG, Fannie Mae and all the rest ... My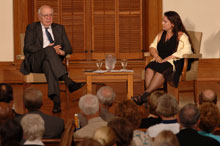 hope is that the U.N. has learned that lesson -- not just the U.N., but its member states -- and that its taken it to heart, and at the end of the day, I hope the scandals in the oil-for-food program will be the catalyst for needed reform so that we have the kind of United Nations that I think we really need."
Following his comments, Volcker engaged in a discussion with Kerry Pannell, associate professor of economics and management at DePauw, and acknowledged that actually reforming the U.N. will not be easy.

[Download Audio: "Turning Lip Service Into Action" - 217kb] "Despite all this investigation, all that we found... almost everybody says, 'Oh, it's wonderful, you've found out all these difficulties, something has to be done'... it's not gonna be done without a lot of public pressure and pressure by the United States and other counteries to follow through. That is a big question in my mind after going through all that, whether all the lip service can be converted into real action."
The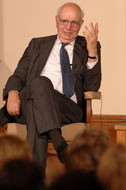 former Fed chief was also asked about the U.S. economy, which he recently called "dangerous and intractable." Volcker says "people are rather content. But underneath all of this, we are basically spending more than we are producing by an increasingly large margin... we are spending about 6% more than we are producing." Volcker says the economy is staying buoyant because of America's reliance on cheap imported goods, but the trade and budget deficits are swelling.

[Download Audio: "Intractible" - 266kb] "So we go further and further into debt, other people like to export; we like to consume, they like to produce; they're willing to lend us the money, we're willing to borrow the money. So everybody's kind of happy, but you wonder how long this can go on. And that's the intractable part and it's hard to see how we get out of this. Part of the problem is that there isn't any sense of a big problem, so nobody feels any urgency about dealing with it." Volcker added, "You have the feeling this can't go on forever," and suggests higher interest rates could bring a wake-up call to the American economy, "but the answer doesn't just depend on what happens here, but what happens in the rest of the world."
DePauw Discourse 2005, a three-day symposium, continues through Saturday. Paul Volcker is honorary co-chair of the event along with civil rights legend and former president adviser, Vernon E. Jordan Jr. '57. Other DePauw Discourse events will include a discussion on DisneyWar, including the best-selling book's author, James B. Stewart '73; conversations with Samantha Power, author of A Problem from Hell: America and the Age of Genocide, and Liza Wright, assistant to President George W. Bush for presidential

personnel; a panel discussion on business ethics; "An Evening with Thomas Jefferson, featuring Clay S. Jenkinson, humanities scholar, author and award-winning historical impersonator; a panel discussion featuring Jordan, former U.S. Senator Birch Bayh and Father Richard McBrien, Crowley-O'Brien Professor of Theology at the University of Notre Dame; and a performance by the Capitol Steps.
Learn more, and access a complete schedule of events and biographies of the guests, at the event's official Web site.
Back