Daniel Hendricks '70 Named VP at Western Illinois University
September 16, 2005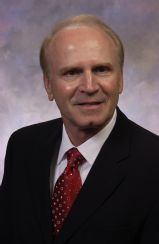 September 16, 2005, Greencastle, Ind. - Daniel L. Hendricks, a 1970 graduate of DePauw University, has joined Western Illinois University as vice president for advancement and public services. Hendricks comes to Western Illinois from the Louisiana State University (LSU) Alumni Association, which he served as special assistant to the president for advancement and operations.
"Dr. Hendricks has experience and expertise from successful fundraising at major universities," says Al Goldfarb, president of Western Illinois University. "His years in development provide him the background and knowledge necessary to lead the advancement and public service division and to guide the university into its next comprehensive campaign outlined in our strategic plan."
Before becoming special assistant to the president, Hendricks served as the vice president and chief development officer for the LSU Foundation for four years. He was director and
chief operations officer for the University of Kentucky's $600 million campaign from 1999 to 2001. An ordained minister, Dr. Hendricks has served parishes in North Carolina, Kentucky and Indiana and has taught systematic theology at the Memphis Theological Seminary.
Read more by clicking here.
Back