Prof. Ken Bode Writes of Congressional Candidate's "Dodge" in Op-Ed
September 16, 2005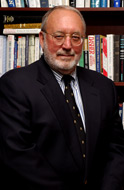 September 16, 2005, Greencastle, Ind. - "Recruiting good congressional candidates is a difficult business, especially when the opposite party seems to have a lock on the seat," writes Ken Bode in today's Indianapolis Star. Bode, Eugene S. Pulliam Distinguished Visiting Professor of Journalism at DePauw University, writes about the annual Putnam County Democratic picnic, at which congressional candidate Brad Ellsworth was introduced. The sheriff of Vanderburgh County, Indiana, Ellsworth is "so popular he last ran unopposed."
Bode continues that Ellsworth "was introduced as a politician who would never commit the sins of incumbent Republican John Hostettler, who once blamed breast cancer in women on the fact that they had abortions, for example, and voted against supplemental disaster relief aid to the victims of Hurricane Katrina. These Democrats consider Hostettler to be a quirky oddball, an embarrassment, perhaps the worst congressman in Washington ... Hostettler's core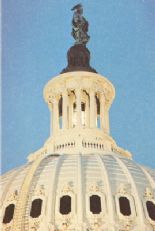 support comes from conservative Christians and anti-abortion groups. He is against taxes, gun control, gay rights and environmental regulation. He is for school prayer, school vouchers and faith-based charities. He was one of only three members to vote against the Violence Against Women Act," and recently voted "no" on hurricane relief.
After Ellsworth finished his speech, Dr. Bode -- the former television network news reporter who was in the audience -- asked: "Knowing everything we do about Iraq today, if you had been in Congress at the time, would you have voted for the resolution to authorize the president to go to war?... What did Ellsworth answer? 'That's not a fair question,' he insisted, 'I was not in Congress at the time.' The lawman-candidate suddenly looked edgy and sketchy and dodgy, clearly without a clue about what to say regarding Iraq."
The op-ed column concludes, "You're right, sheriff, it is a hypothetical question. But it is a fair one, and for many in your audience it is the threshold question for your candidacy. Democrats in the 8th

district badly want to beat John Hostettler, but they want to do it with a candidate who truly understands the mistakes of Iraq, not one who would go to Washington only to make them again."
Read the complete essay by clicking here. Ken Bode's other recent columns can be accessed here, here, here, here, here, here, here, here, here, here, and here.
Source: Indianapolis Star
Back