Alumna's Gift Will Create Janet Prindle Institute for Ethics
September 16, 2005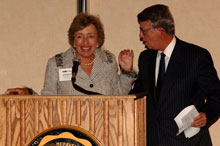 September 16, 2005, Greencastle, Ind. - A gift from Janet W. Prindle, a 1958 DePauw graduate, will fund construction of the Janet Prindle Institute for Ethics to be located within the DePauw University Nature Park. The project was announced tonight at DePauw Discourse 2005, a three-day symposium for alumni, students, faculty members and staff that is examining issues surrounding ethics and leadership.
Ms. Prindle retired as Managing Director from Neuberger Berman LLC, an investment management firm in New York City. She is creating the Janet Prindle Institute for Ethics out of respect for her own DePauw experience. "My DePauw liberal arts education greatly enhanced my personal life and advanced my career," she says. "But today's graduates face an increasingly complex array of professional fields and choices. I believe that DePauw's liberal arts program will be more relevant if students' critical thinking skills development includes ethical issues within the subjects they study. I am honored to be able to play a role in strengthening DePauw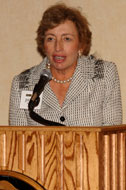 University's high-quality academic program and preparing future graduates for the decisions they will make."
"The strength of a liberal arts program of study is that we integrate the study of ethical issues across the curriculum," says DePauw University President Robert G. Bottoms. "The recent misdeeds at Enron and WorldCom, and the United Nations' Oil-for-Food Program suggest that the world needs leaders who conduct themselves with integrity, whether their role is in business or operating humanitarian programs anywhere in the world. The Janet Prindle Institute for Ethics will focus greater attention on the role ethics play in our personal and professional lives, better preparing our students for decisions they will face. Our entire community of students, faculty members, alumni and staff will have access to nationally recognized scholars, speakers and researchers who are supported by the Janet Prindle Institute for Ethics."
People are now questioning institutions that were once trusted, including government, religious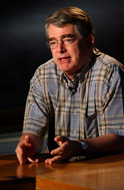 organizations, and the media, says David H. Smith, Robert and Carolyn Frederick Distinguished Visiting Professor of Ethics at DePauw University. Dr. Smith, one of the nation's leading scholars on the study of ethics and the author of eleven books, served as a catalyst in the campus-wide discussions that led to the creation of the Janet Prindle Institute for Ethics. He stresses,

[Download Audio: "The Examined Life" - 558kb] "The idea is not to make all DePauw students think the same way, have exactly the same values or become exactly the same kinds of people," says Smith. "Not only would that be impossible, but it would be perverse. But I do think there are some things that are really wrong -- for example, killing the innocent or lying -- I think there are some pretty-close-to-universal 'thou shalt nots,' if you will."
Other universities -- most notably, Harvard and Princeton -- have centers dedicated to the study of ethics. What makes DePauw's initiative distinctive, notes Professor Smith, is that it will focus on faculty members whose primary vocation is teaching. DePauw faculty members, and those from other colleges who attend seminars at the Janet Prindle Institute for Ethics, will take what they learn and convert it into a more sophisticated and better informed study of ethics so they can better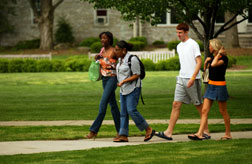 prepare students to address the challenges of the world.
Faculty members welcome the opportunity to integrate ethical concerns into their courses. Dr. Michele Villinski, assistant professor of economics and management, believes that a greater emphasis on ethics within the DePauw community will underscore the importance of personal integrity, including but not limited to integrity in academic work. She says, "If we can nurture and fortify a sense of integrity in each of our students, we can dare to hope that each of them will continue to ask difficult ethical questions, examine their own ethical choices, and pursue ethical living in all facets of their life in Greencastle and beyond. And that is indeed a comforting thought."
The Janet Prindle Institute for Ethics will:
house DePauw's Robert and Carolyn Frederick Distinguished Visiting Professor of Ethics;
sponsor grants for DePauw faculty members to pursue projects that stress ethical perspectives on life and leadership, and ethics research;
host visitors on sabbatical leaves from other colleges and universities who will interact with students through coursework and symposia;
annually host a major symposium that brings teacher/scholars from across the nation to discover what institutions are doing to develop the character of their students;
sponsor a lecture series addressing ethical themes;
sponsor research by faculty members and students.
Visit the DePauw University Nature Park online by clicking here.
Back