Prof. Ted Rueter Examines Katrina, Race & Modern America in Newspaper Op-Ed
September 23, 2005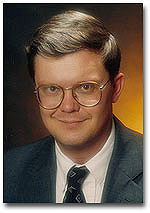 September 23, 2005, Greencastle, Ind. - "The federal government's initial response to Hurricane Katrina demonstrates America's continuing indifference to poverty and its hostility to African-Americans," declares Ted Rueter, assistant professor of political science at DePauw University, in today's edition of Indiana's Bloomington Herald-Times. "A Washington Post/ABC News poll found that 60 percent of blacks believe race was a factor in the federal government's slow response (compared to 12 percent among whites)," reports Rueter, who notes the complaints of many African-American leaders in the wake of the deadly storm.
"Media coverage of Katrina created the impression that blacks are out of control, are lawless, and are undeserving of sympathy," the professor states. "Ericka Wheeler, a student at IUPUI, states that 'the thing that shocks me is that with the Katrina crisis, people are just now seeing how the media portray black people. This is nothing new. Blacks are often seen on television shooting each other, stealing, or making comments on the newscasts that seem as if they just woke up.'"
Dr. Rueter asserts, "The attitudes of many African-Americans toward Katrina are eminently justified. Black people in this country have faced slavery, imprisonment, beatings, and lynchings. They have faced Bull O'Connor's dogs, sitting in the back of the bus, separate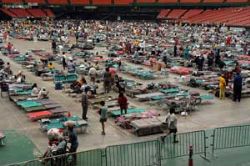 and unequal schools, poll taxes, literacy tests, forced segregation, discrimination, and hatred. Every day, most African-Americans face hostility from the police for driving while black and hostility from merchants for shopping while black. Every day, most African-Americans put up with rude remarks and rude gestures from Caucasians. Was race a factor in the federal government's slow response to Hurricane Katrina? Absolutely -- just like race is a factor in every other aspect of American life." (above right: Astrodome photo by Daniel Cima/American Red Cross)
Read the complete essay at College News.org.
Learn about Ted Rueter's other recent columns here, here, here, here, and here.
Back