Global Growth of Cummins Inc., Led by Tim Solso '69, Noted in Reuters Report
September 22, 2005
September 22, 2005, Greencastle, Ind. - "India and China (are) the largest single growth opportunity that Cummins has," Tim Solso, CEO of Cummins Inc. and 1969 graduate of DePauw University," tells Reuters India. The article notes that Solso "expects record results this year and next, and predicts sales in both China and India will more than double by 2010."
The report continues, "Cummins now has about $1.1 billion in total sales generated in China and about $700 million in India. Total sales include revenue from both wholly-owned businesses and joint ventures... Solso, who was named CEO at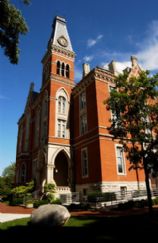 Cummins in 2000, told the Reuters Auto Summit in Detroit he expects total sales in China to reach $2.5 to $3 billion by 2010. In India, he sees consolidated and unconsolidated sales totaling $1.5 billion in the same time period." Solso tells the worldwide news service, "We're having another record year. Next year is going to better."
Access the complete story by clicking here.
A member of DePauw's Board of Trustees, Tim Solso was back on campus last weekend to participate in DePauw Discourse 2005. Learn more at the event's Web site.
In May, Diversity Inc., a magazine that specializes in covering diversity issues, named Cummins as the top company for Asian Americans. One month before, Business Ethics magazine rated Cummins as America's "top corporate citizen."
Back