Prof. Brett O'Bannon to Address International Political Science Colloquium in France
October 4, 2005
October 4, 2005, Greencastle, Ind. - Brett O'Bannon, assistant professor of political science at DePauw University, will be among the presenters at an international colloquium in Paris next month. "Le 'cousin' et le politique: Alliances à plaisanteries et politique(s) en Afrique," will take place October 27-28, and is sponsored by the Centre d'Etudes et de Recherches Internationales, a unit of the prestigious Sciences-Po, which is France's Grande École (the top institution in producing leaders) in political science.
Dr. O'Bannon's October 27 presentation is titled, "Speak No More of Cousinage?: The Political Economy of Joking Relationships." The professor says, "I'll be discussing my research on local conflict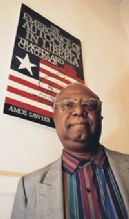 management in West Africa, with an eye to the importance of indigenous, cultural institutions of kinship."
Last year Amos Sawyer (seen at right), the former president of Liberia who was forced out of power by the rebel Charles Taylor, visited DePauw and discussed the importance of recognizing cultural institutions on the ground in any effort at peacemaking or peacekeeping. "During his talk, for example, he discussed how essential local women's groups in Liberia have been in brokering and maintaining peaceful relationships across ethnic and even national lines," O'Bannon recalls. "We've continued to collaborate on this question and my paper will reflect some of that."
O'Bannon continues, "The scholars convening this colloquium are all interested in the power of a well-known cultural institution called the 'joking relationship' which binds families, clans or even whole ethnic groups into ties of imagined kinship. For example, when two people of the Ndiaye and Diop families (quite common family names in the Senegambia) meet, they are required to 'dis' each other. That is, they insult each others' family heritage, eating habits, you name it. It's pretty funny stuff, actually. The important thing is that they are not only required to engage in these insulting
exchanges, but they are equally obligated not to take offense."
These interactions are interesting to political scientists for several reasons, O'Bannon states. "For one, these fictive relationships have been known to bring an end to quite serious conflicts. I document an instance in which a rebel group in southern Senegal actually released a carload of hostages because the driver successfully pleaded for their lives in the name of the Serer-Diola joking relationship. The Serer and Diola are two ethnic groups bound by a mutual pact of non-aggression, so to speak. The rebels in question are mainly from the Diola group and the terms of their joking relationship prohibit the spilling of the other's blood. The potential for these kinds of indigenous institutions of self governance is significant. Sawyer's point is that efforts such as international peacekeeping missions, multilateral peace talks or even post-conflict nation building are usually doomed if they don't appreciate the importance of cultural institutions that structure people's daily lives."
Back