Former Basketball Coach Royce Waltman Recalls "Memorable" Near-Championship Season
September 28, 2005
September 28, 2005, Greencastle, Ind. - "The best moment and worst moment was the same thing," says Royce Waltman, head basketball coach at Indiana State University, of his tenure leading DePauw's men's hoops program (1987-1992). "We played in the Division III National Championship while I was there, but we lost the game by one point. That was clearly the most memorable moment, but a little bit bittersweet," Waltman adds, in a profile published in the Indiana Statesman.
The story tells of Waltman's high school coaching experiences, and of serving as an assistant to Indiana University's Bob Knight, including the 1987 national championship season. "After his time with the Hoosiers, he became head coach at DePauw University," writes Brittney Bogart. "He said that that he enjoyed working as a Division III coach because he knew the players were there because they loved the game, not because of any outside influences such as financial aid. During his five seasons at DePauw, he accumulated an overall record of 100-36. His 1989-90 team captured the Indiana Collegiate Athletic Conference Championship and was national runner-up. Waltman received the ICAC Coach of the Year in 1990 after the Tigers the team went to the championship game."
Now beginning his 39th year of coaching basketball, Waltman says,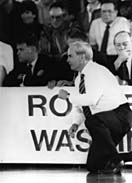 "I'm still trying to prove to myself that I am a good coach and I don't know where that comes from. Way back in your background you're always trying to prove that you're good at something; I still have that same feeling of wanting to do a good job."
Read the complete article at the newspaper's Web site. DePauw's men's basketball team opens its season November 5 with an exhibition game at the University of Evansville. Visit the Tigers online by clicking here.
Back