Lee Hamilton '52 & Bill Clinton Among Those to Receive 'Four Freedoms Medal' October 22
September 28, 2005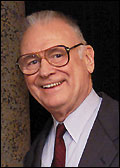 September 28, 2005, Greencastle, Ind. - Lee H. Hamilton -- vice-chair of the 9/11 Commission, former United States Congressman and 1952 graduate of DePauw University -- will join Bill Clinton, Thomas Kean, Cornel West, Tom Brokaw and Marsha Evans on Saturday, October 22, when all are presented the Four Freedoms Medal by the Franklin and Eleanor Roosevelt Institute. The ceremony will take place on the grounds of the FDR Presidential Library and Museum in Hyde Park, New York.
In his annual message, delivered January 6, 1941, President Roosevelt identified the Four Freedoms that he maintained were essential prerequisites of democracy: freedom of speech and expression, freedom of worship, freedom from want and freedom from fear. Lee Hamilton and Thomas Kean, will receive the Freedom from Fear Medal "in recognition of their leadership of the 9/11 Commission as well as for their extraordinary lives as public servants," says Christopher N. Breiseth, president and CEO of the Roosevelt Institute.
Their fellow medal recipients include:
William Jefferson Clinton - Four Freedoms Medal
Tom Brokaw - Freedom of Speech and Expression Medal
Cornel West - Freedom of Worship Medal
Marsha Evans - Freedom from Want Medal
Lee Hamilton is currently the director of both the Woodrow Wilson International Center for Scholars in Washington, D.C. and The Center on Congress at Indiana University. Until 1999, when he retired from the U.S. House of Representatives, Hamilton served 34 years as a Congressman representing the State of Indiana. He was a chairman, ranking member, and member on the Committee on International Relations as well as a chairman, vice chairman, and member on the Joint Economic Committee. Hamilton established himself as a leading congressional voice on foreign affairs, with particular interests in promoting democracy and market reform in the former Soviet Union and Eastern Europe, promoting peace and stability in the Middle East, expanding U.S. markets and trade overseas, and overhauling U.S. export and foreign aid policies. His tenure in Congress coincided with many significant historical events, including the fall of the Berlin Wall, the Arab/Israeli peace negotiations, and the 1991 Persian Gulf War. Hamilton also has been a leading figure on economic policy and congressional organization.
Hamilton remains an important and active voice on matters of international relations and American
national security. He served as vice chairman of the National Commission on Terrorist Attacks Upon the United States (the 9/11 Commission), which issued its report in July 2004. He was co-chair with former Sen. Howard Baker of the Baker-Hamilton Commission to Investigate Certain Security Issues at Los Alamos, and he served on the United States Commission on National Security in the 21st Century (the Hart-Rudman Commission). His service has earned him numerous awards, including a Jefferson Award for Public Service earlier this year, Junior Statesmen Foundation Statesman of the Year award with Gov. Thomas Kean (also 2005), and the Paul H. Nitze Award for Distinguished Authority on National Security Affairs in 1999. TIME magazine named Hamilton one of its "People who Mattered" in 2004.
Lee Hamilton is the author of two books: How Congress Works and Why You Should Care and A Creative Tension: The Foreign Policy Roles of the President and Congress, and his op-eds appear regularly in newspapers across America. He has been a frequent visitor to the DePauw campus over the years, and participated in DePauw Discourse 2004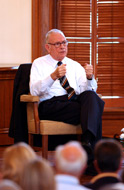 (access a story with audio and video clips here). Earlier this month at DePauw Discourse 2005, former U.S. Senator Birch Bayh -- who met Hamilton while both were college students -- remarked,

[Download Audio: "Sen. Bayh on Lee Hamilton" - 218kb] "I don't know of a living citizen that so emulates... what you ought to do to be worthwhile and worthy of the citizenship that we have living in the United States of America." Bayh, who sought the Democratic presidential nomination in 1976, added: "I tried to get him to run for president. I tell people he's probably the only man I'd trust with my life, my wife, and my country," the former senator said to laughter.
The Franklin and Eleanor Roosevelt Institute commemorates the significant events of the Roosevelt era and helps maintain the legacy of two remarkable individuals by sponsoring conferences, symposia, and lectures on contemporary issues. Its programs help sustain the Franklin D. Roosevelt Presidential Library and Museum in Hyde Park, NY as a vital center for the study and teaching of the Roosevelt era. Learn more about the Four Freedoms Medal ceremony by clicking here.
Back