Pre-Order Your 2005 Monon Bell DVD and Save
October 19, 2005
Pre-Order Your 2005 Monon Bell DVD
Also: Monon Bell Ticket Information
Also: Game to be Nationally Televised on DirecTV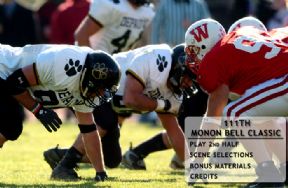 [Download Video: "See The Ballad of the Monon Bell" 9346KB]

[Download Audio: "Hear The Ballad of the Monon Bell" 2900KB] October 19, 2005, Greencastle, Ind. - Fans who want to relive the excitement of one of college football's greatest rivalries, and highlights of past games dating back to 1940, can pre-order a DVD of the 112th Monon Bell Classic. The game will be played Saturday, November 12 at DePauw's Blackstock Stadium, and will be documented on DVD for the fourth consecutive year, DePauw University and Wabash College jointly announced today. Between now and kickoff, the DVD is available at a special "early bird discount" of $10 (copies of the disc will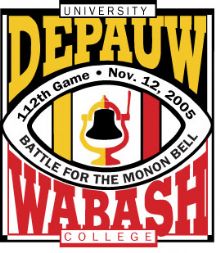 be $12 after that date). You can pre-order your disc by clicking here. (above left: a menu screen from the 2004 Monon Bell DVD)
"I created the first disc in 2001, after a number of fans suggested it was the most exciting game they'd ever seen and would love to have a high quality copy of their own," says Ken Owen '82, director of media relations at DePauw, who masters the disc. "The feedback was terrific, and now fans, players and their families have come to expect that we'll create a DVD. We've been able to cram more special features on the disc each year, and this will be no exception."
The 2005 platter will include dozens of "Monon Memories" -- clips of past Bell battles dating back to 1940 -- as well as a photo gallery, the two colleges' halftime messages, the original Ballad of the Monon Bell music video,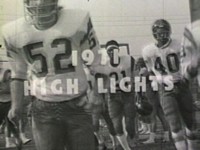 all-time scores and, of course, every play of the game. Voted Indiana's "best sports rivalry" by visitors to ESPN.com, the Monon Bell Classic is deadlocked at 51-51-9 heading into this year's battle.
"What we've done in producing the DVDs each year is to build in yet another facet to this wonderful fall tradition," says Jim Amidon, director of public affairs and marketing at Wabash College, who co-produces the DVD with Owen, his counterpart at DePauw. "Students, alumni, and fans of the Monon Bell rivalry look forward to adding the DVD to their collection each year no matter which team wins or loses."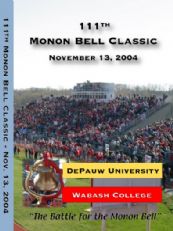 The DVDs are professionally replicated by Sony Disc Manufacturing and come shrink-wrapped in commemorative packaging. The Monon Bell DVDs have been available through the Internet, campus bookstores and an Indianapolis Borders Books and Music store, and have been reviewed in the Indianapolis Star. Football lovers can grab remaining copies of the 2004, 2003, 2002 and 2001 Monon Bell DVDs at a special price of $10 (click here to order).
For the second consecutive year, the Battle for the Bell will be televised nationally on DirecTV channel 321, and can be seen in central Indiana via WHMB/Channel 40. "We moved to the small dish last year, and with so many homes and restaurants equipped with DirecTV equipment, it's safe to say that more people were able to see the telecast -- and find it easily -- than in any previous year," states Owen.
As in the past, DePauw alumni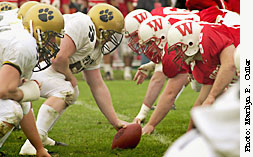 will gather to watch the telecast and cheer on the Tigers at parties in dozens of cities across the nation. For a list of sites and hosts (party hosts are still needed in some cities), click here.
Tickets for the 112th Monon Bell Classic, set for November 12 at DePauw University's Blackstock Stadium, will go on sale to the general public October 26, with students and faculty and staff members able to pick up their tickets in a two-day period before sales begin.
Visit the Monon Bell Web page by clicking here.
Back