Nearly 17-Million 'Hits' and 178-Thousand Unique Visitors Here in September
October 3, 2005
October 3, 2005, Greencastle, Ind. - The leaves weren't the only things beginning to fall as September ended. DePauw University's Web site smashed all-time records in all categories, attracting 178,879 unique visitors and nearly 17-million "hits" in the month that just ended. The September showing followed a record-setting month of August, but the number of "hits" increased approximately 30% month-over-month.
The previous high for hits came in August (13,050,065). The unique visitors total eclipses March 2005's 171,854. September's visitors (815,614) and page views (3,609,822) erased records set in April 2005 (742,046 and 3,414,106).
"August's performance was so robust we assumed it was a bit of an anomaly, but the September numbers are affirmation that our audience is growing -- both in size, and in its appetite for information," says Scott Cooper, DePauw's Web director. "We're experiencing year-over-year growth of more than 50% in key categories. 'Unique visitors' counts each person who visits once per month. When you consider that we have about 3,000 people on campus (students, faculty, administrators and staff) and 30,000 alumni, the numbers indicate there are many, many people -- more than 100,000 parents,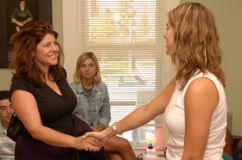 prospective students, media, visitors and folks who come find something on our site via a search engine -- coming to DePauw.edu each month. That's rather amazing."
News was again the major driver of traffic to the site. Mikhail Gorbachev's upcoming Ubben Lecture continued to command attention, and Naomi Wolf's September 21 Ubben Lecture was also a draw. Visitors also caught up on DePauw Discourse 2005, learned of the announcement of the Janet Prindle Institute for Ethics, were apprised of DePauw's efforts to aid victims of Hurricane Katrina, and mourned the passing of DePauw senior Vanessa A. Baer. The athletics page, which includes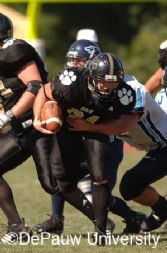 the very latest information on DePauw's varsity sports teams, was also a popular attraction.
"It is our goal to make DePauw.edu a daily destination for people who have a relationship with the University -- as students, alumni, parents, faculty members and staff, or friends; a place where you can find daily news of interest involving DePauw, its people and programs," says Ken Owen '82, director of media relations, who oversees the news area of the Web site and creates the vast majority of its content. "It's gratifying to see that so many people are taking the time to visit our site. We're committed to working to keep the site as vibrant and up-to-date as possible."
| | | | | |
| --- | --- | --- | --- | --- |
| | Hits | Unique Visitors | Visits | Page Views |
| September 2005 | 16,941,609 | 178,879 | 815,614 | 3,609,822 |
| Sept. 2004 | 10,892,473 | 127,606 | 544,287 | 2,636,015 |
| Sept. 2003 | 9,413,867 | 81,171 | 445,489 | 1,975,013 |
| Sept. 2002 | 7,260,618 | 64,445 | 362,884 | 1,302,091 |
| Sept. 2001 | 4,731,435 | 38,056 | 241,615 | 897,918 |
| Sept. 2000 | 2,869,341 | 24,621 | 143,200 | 696,035 |
("hits" is a count of all the successful hits including HTML pages, pictures, forms, scripts and files downloaded; unique visitors counts each user once per month; visits counts every time a user visits the site)
Back