Years of Community Service Land Brad Ward '05 Position with American Cancer Society
October 3, 2005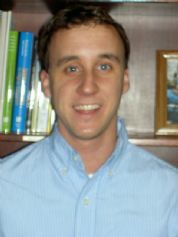 October 3, 2005, Greencastle, Ind. - "Desire for a pet 14 years ago set Brad Ward, 23, on a path of volunteerism, advocacy and service work," begins an article in Indiana's Linton Daily Citizen. "The 2005 DePauw University graduate is the new community development director for the American Cancer Society's (ACS) Hoosier Hills Area Service Center," writes Andrea McCann. The story notes Ward served six years as a volunteer with Relay For Life, an ACS fundraiser. DePauw's event is the oldest college-run Relay in the United States.
"Ward's passion for this type of work took root at age 9 when he was growing up in Jasper. He asked for a puppy, and his parents

didn't want him to have one," the newspaper story continues. "He said they had him volunteer at the humane shelter so he could play with all the puppies he wanted to there. Doing that work, he learned the feeling of having someone and something depend on him, and he liked it."
Ward has been active in service work ever since, "including volunteering abroad with Habitat for Humanity. He traveled in Ireland and studied at University College Cork, focusing on political science. There, he worked with elderly and disabled youth. He also spent a month in Belfast, Northern Ireland, studying The Troubles. While there, he did other nonprofit volunteer work. In France, he worked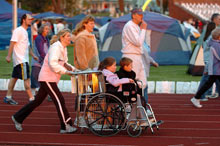 with a sustainable living community. 'I've traveled all through Europe,' Ward said. 'I've done a lot with church. DePauw opened up a lot of opportunities. I've worked with a lot of poverty and homeless issues. Cancer and health is just one facet.'"
Of Relay For Life, Ward states, "Your mind is shaped by being involved... To me, they were building community. I never saw so much compassion. There's lots of passion and unity."
Read the complete text at the newspaper's Web site.
Back