Author, Feminist and Social Critic bell hooks to Speak November 9
October 27, 2005
October 27, 2005, Greencastle, Ind. - bell hooks is "a lucid, persuasive writer and an extraordinary penetrating and original thinker," Library Journal opined. On Wednesday, November 9, hooks -- a writer, professor, and social critic named one of Utne Reader's "100 Visionaries Who Could Change Your Life" -- will visit the campus of DePauw University. She will discuss "Ending Domination: What's Love Got to Do With It?" in a 7 p.m. lecture in Meharry Hall of historic East College. Free and open to the public, the speech will be followed by a question-and-answer session and book signing.
Born Gloria Jean Watkins in Hopkinsville, Kentucky, bell hooks adopted the name of her maternal great-grandmother, a woman known for speaking her mind. A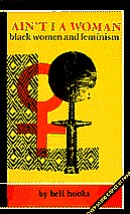 Distinguished Professor of English at City College in New York, hooks' writings cover a broad range of topics on gender, race, teaching and the significance of media for contemporary culture.
"If I were really asked to define myself, I wouldn't start with race; I wouldn't start with blackness; I wouldn't start with gender; I wouldn't start with feminism," hooks has stated. "I would start with stripping down to what fundamentally informs my life, which is that I'm a seeker on the path. I think of feminism, and I think of anti-racist struggles as part of it. But where I stand spiritually is, steadfastly, on a path about love."
In 1981, hooks' first full-length book, Ain't I a Woman: Black Women and Feminism, was published. Library Journal's Mary Biggs called it an "exciting book... Her wide-ranging analysis of sexist and racist oppression of black women in America... leaves no group uncriticized, no assumption unchallenged, no doctrine unravaged, no sacred cow ungored." Biggs added, "Her book should be widely read, thoughtfully considered, discussed, and finally acclaimed for the real enlightenment it offers for social change."
Actress Jada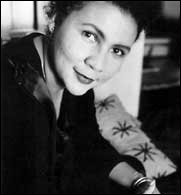 Pinkett told Essence magazine, "I met a young sister who was a feminist, and she gave me a book called Ain't I A Woman by a talented, beautiful sister named bell hooks -- and it changed my life. It changed my whole perspective of myself as a woman."
Other books by bell hooks include Rock My Soul: Black People and Self-Esteem, Teaching to Transgress: Education as the Practice of Freedom, Feminism Is for Everybody: Passionate Politics , Teaching Community: A Pedagogy of Hope, Where We Stand: Class Matters, and We Real Cool: Black Men and Masculinity.
In 1998, Atlantic Monthly named bell hooks as one of the "new intellectuals" bringing moral imagination and critical intelligence to bear on the matter of race. hooks received her B.A. from Stanford University, her M.A. from the University of Wisconsin and her Ph.D. from the University of California, Santa Cruz.
Back