'Make a Difference' on Saturday, October 29
October 17, 2005
October 17, 2005, Greencastle, Ind. - DePauw University students, working side-by-side with members of the Putnam County community, will work to improve local neighborhoods and help neighbors in need on Make a Difference Day, Saturday, October 29. Sponsored locally by DePauw's Hartman House, Make a Difference Day is held in cities across America, celebrating the power of cooperation and service with an estimated 2 million volunteers from coast-to-coast.
Make a Difference Day is the largest community service effort in the nation, with projects ranging from a countywide cleanup involving thousands of people to a mentoring program in which members of a sorority provided one-on-one support to 35 underprivileged children.
This year's Putnam County Make a Difference Day will consist of a food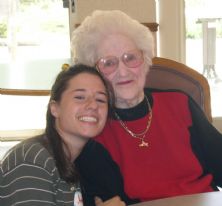 drive to benefit the Putnam County Emergency Food Pantry. In the year 2004, alone the pantry provided for hundreds of local households and a total of 3,618 Putnam County hunger needs were met.
Donations will be collected October 16-28 at several area businesses. The culmination of the food collection drive will be a celebration in Bowman Park on the DePauw campus beginning at 10 a.m. on October 29.
For more information on the project, send an e-mail here, or call Sarah Brucks at (765) 658-4863 or (765) 658-6102.
Approximately 70% of DePauw students engage in community service projects. Visit the Hartman House by clicking here.
Back