NPR Affiliate Reports on John Head's DePauw Visit
October 6, 2005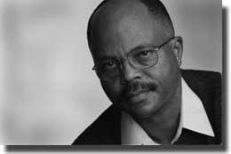 October 6, 2005, Greencastle, Ind. - "John Head says that too many black men receive treatment for depression and other mental illnesses only after they've landed in prisons or homeless shelters," reports Bloomington, Indiana-based National Public Radio affiliate WFIU. The station interviewed Head by phone yesterday from DePauw, where he discussed "Oppression and Depression: Discrimination's Destructive Impact on Mental Health" in a lecture last night.
The radio station report continued, "[Head's most recent book, Standing in the Shadows:

Black Men and Depression, challenges black families, churches, and society at large, to lift the social stigma surrounding the treatment of mental illness. He says mental health is treated as taboo in minority communities and needs to become a serious topic of conversation."

[Download Audio: "John Head on Prison Care" - 112kb] "For many African-Americans, especially black men, they don't get help until they've
reached that critical stage," Head told WFIU. "That is not the best way to deal with the problem."
The story, which is airing today, adds, "Head came to DePauw to discuss depression among black men as part of Depression Awareness Week. He will speak at IU-Bloomington tonight (Thursday) at 7 p.m. at the Neal Marshall Black Culture Center."
A self-contained report on John Head, compiled by WFIU's Brian Baker, can be heard here:

[Download Audio: "WFIU Report" - 353kb]
Visit WFIU online by clicking here.
Back