Chamber Singers to Explore Night Music and Introduce New Choral Director Gabriel Crouch in Thursday Concert
October 9, 2005
October 9, 2005, Greencastle, Ind. - The DePauw Chamber Singers, under the direction of Gabriel Crouch, will open its 2005-06 concert season Thursday, October 13 at 7:30 p.m. in Thompson Recital Hall of the Performing Arts Center. This concert, which is free and open to the public, will explore the theme of Night Music, featuring works by Thomas Tallis, Johannes Brahms, Sergei Rachmaninoff and others.
The event will mark Crouch's first concert as the new director of choral ensembles at DePauw University's School of Music. Prior to his arrival at DePauw, Crouch's decorated performing credits included the second baritone position with The King's Singers beginning in 1996. Over the subsequent eight years, he made more than a dozen recordings on the BMG label with the Grammy Award-nominated ensemble and
performed in several of the world's most noted concert venues. Crouch is now in demand throughout the world as a singer, conductor, choral clinician and adjudicator, with his achievements having recently led to his name appearing in the London Times' list of "Great British Hopes."
"I am thrilled with the way the choir has bonded so quickly, both musically and socially," exclaims Crouch of his work so far with the DePauw Chamber Singers. "We are all clearly focused on our goal of great ensemble music-making, coupled with exciting, colorful sounds."
Thursday evening's concert will present these efforts through the theme of Night Music. Exploring a diverse array of styles, the program will include selections from Rachmaninoff's sublime All-Night Vigil and celebrate the 500th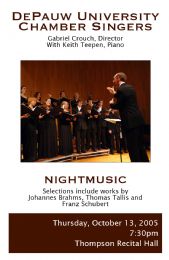 anniversary of English choral master Thomas Tallis' birth through a performance of his evening hymn Te Lucis Ante Terminum. The Chamber Singers will return to the English composer's work on December 4, performing Tallis' forty-part, multi-choral magnum opus Spem in Alium along with the DePauw University Chorus as a part of the University's Winter Choral Concert.
Gabriel Crouch and the Chamber Singers will also be active participants in DePauw's forthcoming, Shakespearean-themed ArtsFest, participating as a part of the event's Artscrawl on October 28 at the Richard E. Peeler Art Center as well as the School of Music's Shakespearean Vocal Concert, November 3 in Thompson Recital Hall.
"This is at the heart of what I came to DePauw for," says Crouch. "To prepare and present concerts of great music with the musicians of our vocal program."
Visit the DePauw School of Music online by clicking here. 
Back