Maynard Thompson '58 Named Senior Counselor to Indiana University's President
October 6, 2005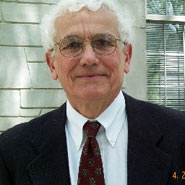 October 6, 2005, Greencastle, Ind. - Maynard D. Thompson, a 1958 graduate of DePauw University, has been named senior counselor to the president of Indiana University. The appointment was announced today by IU President Adam Herbert. "Thompson, a mathematics professor who has previously served in several administrative capacities at the IU Bloomington campus, will be responsible for advising the president on a wide range of academic matters at all IU campuses, including policy development, and will serve as a liaison to faculty organizations," notes a story on the Bloomington-based university's Web site.
"I am both delighted and deeply appreciative that Maynard Thompson has agreed to serve the university as senior counselor to the president," says Herbert. "I know how much he has enjoyed
teaching and writing on a full-time basis and recognize that his acceptance of this assignment is a major sacrifice."
"I look forward to working with President Herbert, the chancellors and others to make progress on implementing an ambitious agenda for expanding and enhancing academic programs at IU," Thompson noted.
Maynard Thompson's tenure at IU began in 1962 when he joined the faculty of the mathematics department. "He subsequently
held several administrative leadership positions including department chairman, associate dean of the graduate school, associate dean of the College of Arts and Sciences, dean of budgetary administration and vice chancellor. In 2002, he stepped down from the vice chancellor's position after 14 years of service to resume full-time duties as a mathematics professor."
The article points out that "Thompson earned a bachelor of arts degree from DePauw University and master's and Ph.D. degrees from the University of Wisconsin. He has long been active in the Mathematical Association of America, the Society of Industrial and Applied Mathematics and the Sloan Foundation, where he serves on the consultants board for the New Liberal Arts Program." Read more by clicking here.
Back