Prof. Ken Bode Digs Through "Vitriolic" Mailbag in Weekly Political Column
October 7, 2005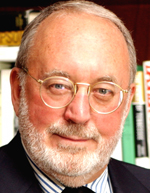 October 7, 2005, Greencastle, Ind. - "'WHAT DO YOU KNOW ABOUT HOOSIER VALUES? GET YOUR HEAD OUT OF YOUR (expletive deleted)!' That submission to this week's e-mail bag arrived early last Friday morning," begins this week's Indianapolis Star op-ed by Ken Bode. The Eugene S. Pulliam Distinguished Visiting Professor of Journalism at DePauw University continues, "It was signed George and Mary, leaving me to ponder which was the author. I choose to believe it was Mary, the early riser, who read the Star with her morning coffee, and, adequately caffeinated, hit the all-caps button and began her day by mugging me on e-mail. As I imagine it, Mary goes back to the bedroom, grabs the napping George by his pajamas and screams, "I JUST TOLD KEN BODE TO TAKE HIS HEAD OUT OF HIS (expletive deleted)!!'' If I were George, I'd burn the bed."
Bode, who wrote last week about Sen. Evan Bayh's vote on the confirmation of Supreme Court Chief Justice John Roberts, notes that the reader response to that column "numbered about 40 and ran 4-1 against
me," and he goes on to document some of the comments.
"If you write a political column these days, you are going to get dissenting e-mails, many of them vitriolic, bellicose, fist shaking. I've been called ignorant, duplicitous and a fathead," Dr. Bode continues. "Some e-mails you just don't open, like the one labeled 'ANOTHER LOUSY COLUMN.' The all-caps technique is used by Hoosiers who want you to know they are screaming."
A former CNN senior political analyst, Bode observes, "The Internet imparts courage of invisibility. People who might have a perfectly rational point of view choose to express it in the most derisive, insulting manner possible. When Neal Williams accused me of an "elitist liberal mentality' that considered most Americans 'stupid (expletive deleted),' I wrote him back: 'Is it just the anonymity of e-mail that gives you courage, or are you also this insulting and disagreeable in person?' Williams was graceful in retreat: 'You are right. I fired off the e-mail . . . without putting much thought into it. After reading it now, it was way out of line. I am sorry.' It turned into a gentlemanly exchange."

The professor concludes, "I'd like a little more civility in readers' e-mails, but if you write a column, you're going to hear back. Virginia Woolf put it this way: 'I look upon disregard or abuse as part of my bargain. I'm to write what I like and they're to say what they like.'"
Read the complete column at College News.org.
Ken Bode's other recent op-eds can be accessed here, here, here, here, here, here, here, here, here, here, and here.
Source: Indianapolis Star
Back