"Honest Discussion" About Health Care, Death and Dying is Overdue and Necessary, Joanne Lynn Tells DePauw Audience
October 6, 2005

October 6, 2005, Greencastle, Ind. -
[Download Audio: "A Better Disease" - 555kb] "In many ways, the major success of modern medicine has been to create chronic disease out of what used to be acute causes of death," author and ethicist Joanne Lynn, M.D., told an audience at DePauw University this afternoon. Dr. Lynn, an internationally-known leader in helping terminally ill patients improve quality of life, discussed "How We Die and What We Can Do About It" in the auditorium of the Peeler Art Center. 
The author of Sick To Death and Not Going to Take It Anymore!: Reforming Health Care for the Last Years of Life says that Americans are living longer and dying of chronic problems, and are less likely to pass away suddenly. "Think about it," she asked her audience, "we send somebody into a hospital and they get their heart all replumbed with new wiring and new vasculature.  We didn't make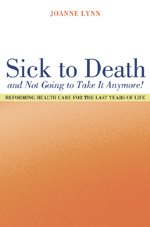 them well; we just gave them a better disease.  The disease they had when they came in might have killed them suddenly and soon; this disease they'll live with a little longer.  But it still is a fatal illness." [BONUS CLIP:
[Download Audio: "The Way We Die" - 154kb]]
Talking about issues of death, dying, and quality of life are ones most Americans wish to avoid, Dr. Lynn added.
[Download Audio: "Finding Political Will" - 189kb] "There's very little political will for reform.  We can barely stand to even talk about it -- we only talk about finding ways to prevent things, finding ways to cure things -- we very rarely have an honest discussion about what is the right number of beds and how should we serve them for long-term care in this town. We don't talk that way.  We think, 'We're gonna get everybody out of nursing homes.' Guess what?  For those of us who are y-chromosome deficient, we have a 50% chance of needing a nursing home; women have a 50% chance of needing a nursing home." Lynn, also a hospice physician and health services researcher, added, "because we outlive you. Women take care of men, and when the men die, women are taken care of in nursing homes."
Lynn says medicine should
[Download Audio: "The Uneasy Dividing Line" - 132kb] "do less and less disease
modifying treatment as you go along, because there's less to do.  And you do more and more support to try to help people live better with what they have to live with because there are more challenges as people go along. But there's never an easy dividing line.  You have to integrate good supportive services with good medical care."
The speaker discussed "ideal care systems" for various diseases and situations.  She stated,
[Download Audio: "A Better Model" - 195kb] "If we thought about building care systems around the population which we're serving we would do so much better.  You know, if Hilton sets out to build hotels, they figure out what the traveling public is and what the appropriate segments are; they don't build a hotel around every individual, nor do they build just one kind of hotel.  They say, 'What are the segments of the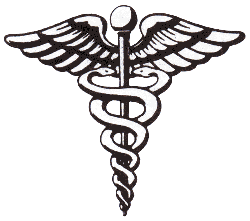 population we're trying to serve?' They build a different hotel for businessmen [than for] families, and for resorts, and for inner cities.  We need to do the same thing," Lynn said.
"If we really want a care system that we can count on at the end of life, it's going to have to look very different," she added.  "We need to have care systems that are strong enough to promise good care." 
Policy must also change, Lynn declared.
[Download Audio: "Changing the Culture" - 176kb] "Optimal care for the last days of life is not usually good for provider income... In almost all circumstances it is much better for provider income to throw technology at people: to just keep doing things, to keep running up bills...
[Download Audio: "Focus on Surgeries" - 161kb] "It is easier for me to get a person in the intensive care unit than to get them a second pair of cataract glasses. 
It's easier for me to get them a surgeon than Meals on Wheels.  We have priorities that reflect our focus upon the need for surgeries and the need for procedures," the doctor asserted.  She says the beneficiaries of the system benefit from the way things are and don't have any incentive to change.
In the last presidential campaign, candidates talked about the cost of prescription drugs but not about continuity, reliability or symptom management, Joanne Lynn recalls. She proposes a system that can provide health care for dying patients, often in their own homes, and says it would be less costly and much more effective than the current system. 
[Download Audio: "Core Issue" - 90kb] "The core issue in reform is that the boomers are coming, and we are going to double the number of people sick at the same time within 20 years.  The boomers first have to take care of their parents, and maybe they'll galvanize into a political force," Dr. Lynn concluded. 
Back