Case Involving Infant on Life Support Analyzed by Ethics Prof. David Smith
October 8, 2005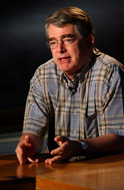 October 8, 2005, Greencastle, Ind. - "David Smith, visiting professor of ethics at DePauw University, Greencastle, said that in cases like these, there are two basic questions: What should be done? And who should decide?," notes today's Indianapolis Star. The story reports on a judge's decision yesterday to order life support removed "from a 5-month-old Indianapolis boy with a severe head injury that investigators say was caused by abuse," writes Tim Evans. The child's mother wants to keep the boy alive.
Smith, Robert and Carolyn Frederick Distinguished Visiting Professor of Ethics at DePauw, "said that whatever is done should be judged by what's in the best interest of the baby," continues the newspaper article. "Officials should err on the side of delay, not rush to judgment, he said. Under normal circumstances, 'American law holds, and I think it's morally correct, that the family should be the decision maker,' he said. But if the mother in this case is not the legal decision-maker, he said, officials should work toward an accommodation
with the mother. In the end, the child might need to be removed from life support even over the mother's objections, Smith said. But 'she needs support. She needs time.'"
Read the complete text at the Star's Web site.
Dr. Smith, one of the nation's leading scholars on the study of ethics and the author of eleven books, served as a catalyst in the campus-wide discussions that led to the creation of the Janet Prindle Institute for Ethics. Learn more about the Institute, announced September 16, in this previous story. The professor was also featured in a nationally-distributed television report on ethics in the classroom.
Back