Jeremiah Marks Rushes for School Record 5 TDs in DePauw's 34-0 Victory Over Sewanee
October 8, 2005
October 8, 2005, Sewanee, Tenn. - School records fell as DePauw University's football Tigers toppled host Sewanee (University of the South) in Southern Collegiate Athletic Conference action this afternoon. Sophomore Jeremiah Marks rushed for all five of DePauw's touchdowns setting a new record in the Tigers' 34-0 Southern Collegiate Athletic Conference win.
Marks finished with 161 rushing yards on 28 carries. The five touchdowns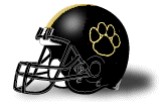 broke the DePauw single-game record for rushing touchdowns, total touchdowns and points.
The win boosts the Tigers to 3-1 on the season and 1-0 in SCAC play. Sewanee dropped to 2-4 overall and 1-1 in the conference. For comprehensive coverage of today's game, click here.
Back