DePauw Debaters Make Strong Showing at Northern Illinois Tournament
October 10, 2005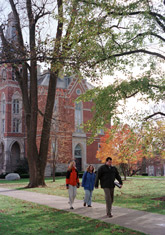 October 10, 2005, Greencastle, Ind. - The DePauw Forensics Union captured four of the top ten speaker awards at the M. Jack Parker Invitational tournament, hosted by Northern Illinois University over the weekend. Jenny Starcevich took the second place award, Tyler Kennedy placed 3rd, J.J. Burns was 4th, and Michael Lutz finished 7th. More than 50 debaters took part in the competition.
"This is the first time in my 12 years of coaching debate that every debater from one school has received an award of distinction," says Geoff Klinger, assistant professor of communication and theatre and director of forensics at DePauw. "It is very unusual for this to happen. This shows that our students are among the most intelligent and articulate in the nation," adds Klinger,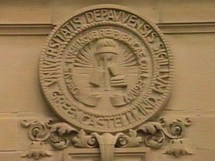 a 1988 graduate of the University.
After winning five rounds of preliminary debates with teams representing 15 different schools at the Parker Invitational, DePauw's top team advanced to elimination rounds, narrowly dropping a 2-1 decision to the top-seeded team from the University of Notre Dame.
For more information on the DePauw Forensics Union or the DePauw Debate Society, send an e-mail to Professor Klinger by clicking here.
Back