Robert Sharpe Jr. '75 Joins Board of Ameriprise Financial
October 10, 2005
October 10, 2005, Greencastle, Ind. - Robert F. Sharpe Jr. -- a partner with the Brunswick Group LLC, a privately held global financial communications firm, and 1975 graduate of DePauw University -- has been named to serve on the board of directors of Ameriprise Financial (NYSE:AMP), formerly American Express Financial Advisors, as an independent director. The former American Express Financial Advisors began operating as Ameriprise Financial, Inc. on August 1. Sharpe is one of eight independent directors appointed today.
"We have an ambitious agenda as a newly public company, and this strong slate of directors provides an exceptional base of experience and knowledge to draw from as we pursue our goal of building long-term shareholder value," says Jim Cracchiolo, chairman and chief executive officer of Ameriprise Financial. "These individuals are prominent leaders in their respective fields who will provide our company with in-depth and diverse expertise across a broad range of disciplines. We also value their strong commitment to maintaining the highest standards of integrity and corporate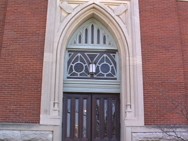 governance."
Of Sharpe, Business Wire reports, "From 1998 to 2002, he was senior vice president, public affairs, secretary and general counsel for PepsiCo, Inc. Previously, he was senior vice president and general counsel for RJR Nabisco, Inc.; vice president of corporate development for Tyco International; and corporate secretary with RJR Nabisco, Inc. Mr. Sharpe is also an executive advisor to Starvest Partners, a business-to-business technology venture capital fund, and a former member of the boards of Pepsi Bottling Group and Pepsi Americas. He holds a B.A. degree from DePauw University, a B.S. degree from Purdue University and a J.D. degree from Wake Forest University."
Read more by clicking here.
Back