Works, Life and Times of William Shakespeare to Highlight DePauw ArtsFest 2005
October 11, 2005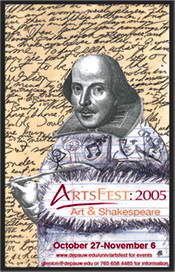 October 11, 2005, Greencastle, Ind. - "The bard of all bards was a Warwickshire Bard," raved actor David Garrick, over 100 years after the death of playwright, William Shakespeare. More than 400 years after penning
Romeo & Juliet
, Shakespeare's preeminence continues, and his work, life and times are the focus of DePauw University's fourth annual campus-wide celebration of the arts, "ArtsFest 2005: Art & Shakespeare." (poster at left by Matt Kalasky '08)
Opening Thursday, October 27, and continuing through Sunday, November 6, the Shakespeare-inspired festival features performances, exhibitions and lectures by visiting artists, and DePauw faculty and students. All events except for DePauw Theatre are free and open to the public. Departments, programs and organizations collaborating in the 11-day event include the Peeler Art Galleries, Film Studies, the DePauw School of Music, the department of English, DePauw Theatre, the Office of Multicultural Affairs, the DePauw Greek community and numerous student organizations.
ArtsFest 2005 kicks-off with an evening of musical entertainment provided by several people who have strong links to DePauw and will return to campus for the celebration. DePauw's School of Music will sponsor a concert featuring an original work by New
York-based composer and 1983 DePauw graduate Kevin D. James. The composition is based on the poetry of Eugene Gloria, associate professor of English at DePauw, and Maurice Manning, a former DePauw professor now teaching at Indiana University. Later in the evening, DePauw Jazz at the Duck will feature former DePauw professor Jim Connerly.
On Friday, October 28, events featured in the first annual DePauw artsCRAWL will encourage visitors to roam through several performing and visual arts venues from late afternoon to midnight. Two exhibitions and an opening reception herald the opening of the newly-renovated William Weston Clarke Emison Museum of Art. The Peeler Art Center will host performances by the DePauw University Chorus, a faculty jazz ensemble, a student improvisation theatre troupe, in addition to poetry readings, student film screenings and three contemporary exhibitions. The Performing Arts Center will host Shakespeare-inspired vocal and theatre performances by DePauw Capella and Alpha Psi Omega/Duzer Du. ArtsCRAWL's ample schedule of events will conclude with the humor of Bloomington-based comedy troupe, Tavern Shakespeare, in Walden Inn's Fluttering Duck.
The festival continues throughout the week with several vocal recitals based on the music and poetry of William
Shakespeare performed by guest artist countertenor Steven Rickards and School of Music faculty and students. The DePauw Symphony Orchestra will present a unique program of work in "Measure for Measure: Shakespeare-inspired Music for Orchestra." Film Studies will host a four-day Shakespeare Film Festival that includes the films Throne of Blood and Merchant of Venice. DePauw Theatre will present the Bard's riotous comedy, As You Like It, opening November 4. The English department will offer student and faculty readings, and visiting scholar David Bevington will speak on "Shakespeare Faces Retirement." Sunday, November 6, offers a visit by the Srinivas Krishnan Ensemble, featuring percussionists and artists from a tsunami-ravaged area of South India.
Rounding out ArtsFest is Art Attack, a day of free art performances, workshops and hands-on art activities for children of all ages. The DePauw Greek community and student organizations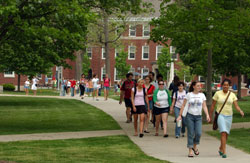 and programs will offer dance, theatre, choral and opera performances; workshops in drumming and poetry writing; and painting, drawing and sculpting activities. In keeping with the Shakespeare theme, visitors will be able to have their futures told through palm reading and tarot cards, play instruments of the period, create their own crowns and head wreaths, experience a fencing competition, and commune with Mr. Shakespeare and his lovely wife, Anne Hathaway.
View the complete ArtsFest 2005 schedule by clicking here. For more information, send an e-mail here, or call (765) 658-4485.
Back