Kyle Salyers '96 to Co-Lead 'Advancing Indiana' Economic Development Effort
October 11, 2005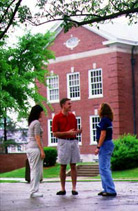 October 11, 2005, Greencastle, Ind. - Kyle J. Salyers, senior vice president of new business ventures at Thomas P. Miller and Associates a 1996 graduate of DePauw University, has been appointed to Indiana University President Adam W. Herbert's "Advancing Indiana" economic development team. Inside Indiana Business notes that Salyers "will share economic development responsibilities with [Bill] Hunt, [retired vice chairman and president of ArvinMeritor Inc.,] in his consulting capacity as special advisor for economic development to the president."
The office, led by Hunt and Salyers, "will provide businesses and governmental units throughout Indiana with a central point of contact to help them access the university's wide array of expertise and assets supporting the state's economic development goals."
Today's announcement notes that "Salyers has served in a number of economic development leadership roles which have supported the formation of some of our state's
most critical economic development efforts. This includes service with former Indianapolis Mayor Stephen Goldsmith's administration, the Mayor's High Technology Task Force, the Indianapolis Economic Development Corp., Techpoint, Thomas P. Miller & Associates and Rose-Hulman Ventures. Salyers also serves on the Indiana University Research and Technology Corporation Advisory Board, the DePauw University 361° National Advisory Board and the Indiana Venture Center Board."
Read more by clicking here.
Back