Ellen Royse Lapierre '93 Profiled in Newspaper
October 11, 2005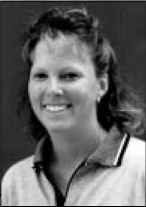 October 11, 2005, Greencastle, Ind. - Ellen Royse Lapierre, a 1993 graduate of DePauw University, "left her mark on city's links history," states a headline in Indiana's
Terre Haute Tribune-Star
. Lapierre "was a four-year letter winner on the Terre Haute South girl's golf Team from 1985 through 1988, playing the #1 position her last three seasons, the newspaper notes. She continued her career at "DePauw University where she majored in communications and was not only a four-year letter winner, but also an All-American recipient during her junior year. She also found time to return to Terre Haute and capture the Women's City Golf Championship the summer following her junior year."
Bob Arnett writes, "It was also during her time at DePauw that she first met the man she would later marry, Mark Lapierre, a veterinary medicine major at Purdue University. After her college graduation, Ellen took an assistant professional's position at Briarwood C.C. in Sun City, Ariz. Missing the change in seasons, she moved closer to home and accepted as assistant's job at McCalister Park in Lafayette where she worked from 1994 to 1996. After her marriage to Mark, it was off to Greensboro, N.C. where she was named head coach of the North Carolina

University-Greensboro ladies' golf team where she coached from 1997 to 2003. Family responsibilities have prompted Ellen Lapierre to resign her coaching position."
The column concludes, "Ellen Royse Lapierre was one of the most likeable and courteous individuals to wear a South Vigo golf team jersey. She made friends wherever she went, and at all times was an outstanding competitor. Her many successes both on and off the golf courses are definitely well deserved. She is certainly a model for any young lady who wants to play high school and college golf and possibly pursue a career in the golf spectrum."
Read the entire article at the newspaper's Web site.
Back