Kentucky Court Honors the Late Thomas R. Snider '00
October 12, 2005
October 12, 2005, Greencastle, Ind. - Thomas R. Snider '00 was "posthumously honored with 'Thomas R. Snider' day on Sept. 6, 2005 proclaimed by the 56th Judicial court in western Kentucky," notes Indiana's Mooresville-Decatur Times. "A tree was also planted in his memory in the courthouse lawn. Snider was a public defender in Trigg, Lyon, Livingston, and Caldwell counties. He was a graduate of DePauw University in 2000 and a 2003 graduate of Indiana University School of Law.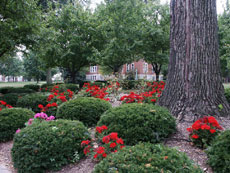 Snider previously lived in Mooresville," the newspaper reports.
Snider, who was a political science major at DePauw, "died on June 7, 2005 of injuries sustained in an auto accident while returning to his office from court. "
Access the item at the newspaper's Web site. More information can be found in this previous story, and a video tribute to Thomas Snider can be accessed here.
Back