Contemporary Sculpture, Fits and Starts, To Be Installed at DePauw November 4
October 15, 2005
October 15, 2005, Greencastle, Ind. - Fits and Starts, a sculpture by New York-based artist Marc Swanson and a gift of the Butler Family Foundation to DePauw University, will be publicly presented on November 4 at 5 p.m. The sculpture will be permanently installed near East College at the Larabee Street circle along Burkhart Walk (the closed portion of College Avenue). The artist will be present. (at left and below: Marc Swanson, Fits and Starts, 2004, crystals, steel and polyurethane foam; courtesy: Bellwether Gallery, New York)
Fits and Starts is a life-size sculpture of a deer in mid-leap that is entirely encrusted in rhinestone crystals, a visually dazzling medium that alludes to themes of artifice, seduction, desire, exoticism and fantasy. With a critical eye toward the precious object, this sculpture explores the elements of melancholy, romance, and sensuality that lie beneath its sparkling surface.
The sculpture's creator, New York-based artist Marc Swanson, views the sculpture in terms of fantasy and desire, noting that the deer is an alluring and elusive creature that is simultaneously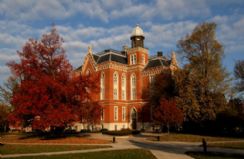 darting away and frozen in time, and suggests an unattainable object of adoration, trying to flee those who wish to approach. Swanson has made several related deer-head sculptures, which he calls his "surrogates," encrusting the conventional hunter's trophy with dazzling rhinestones and hanging them on the wall. Swanson has developed an artistic language that seeks to merge his New Hampshire upbringing (his father was an Eagle Scout and Marine) with his present day identity as a gay male from a politically conservative background.
Marc Swanson lives and works in Brooklyn, New York. He uses a variety of materials -- from crystals and glitter to lumber and deerskin -- to make sculptures that examine renewal, personal history, mortality, and rites of passage. He received an M.F.A. from The Milton Avery Graduate School of the Arts at Bard College in Annandale-on-Hudson, New York, and has had solo exhibitions at Bellwether Gallery in New York and Julia Friedman Gallery in Chicago. His work was recently included in the Greater New York exhibition at P.S.1 Contemporary Art Center/MOMA, Long Island City, New York, and has been shown at White Columns and the
Whitney Museum of American Art at Altria, New York. He is represented by Bellwether Gallery, New York.
The Butler Family Foundation is committed to supporting the acquisition of contemporary sculpture created by emerging artists of promise and established artists of note. Butler family members include trustee Rhett W. Butler '62, Kay Burney Butler '62, Karen Butler Connell '92, and Elizabeth Butler Pruett '89.
The public presentation will be preceded by a slide talk by the artist at 4 p.m., in Meharry Hall of historic East College. Both events are free and open to the public.
For more information, visit the galleries of the Richard E. Peeler Art Center online or call (765) 658-4336.
Back