Indiana's Secretary of Commerce, Vera Bradley Co-Founder Patricia Miller, Tells DePauw Entrepreneurs "You Are The Future"
October 13, 2005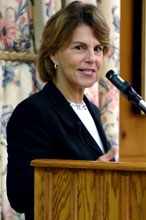 October 13, 2005, Greencastle, Ind. -

[Download Audio: "The Future" - 75kb] "You are the future," Indiana's first Secretary of Commerce, Patricia R. Miller, told students in DePauw University's Management Fellows Program this afternoon. "I think it's a bright one, and I want every one of you to think about being an enntrepreneur." Miller, co-founder of Vera Bradley Designs, delivered the Robert C. McDermond Honorary Lecture in the ballroom of DePauw's Memorial Student Union Building. After her speech, Miller was presented with the Robert C. McDermond Medal for Excellence in Entrepreneurship.
Patricia Miller told students of an idea that came to her and her friend, Barbara Baekgaard, as they sat in the Atlanta airport waiting for a connecting flight in 1982. The two decided that women needed better choices in fine luggage, handbags and accessories, and hatched the idea of creating their own company in Fort Wayne,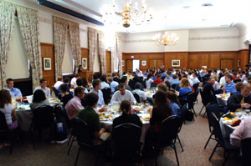 Indiana, where they live. The women scraped together $500, bought fabric at retail, and hired people to sew bags from their homes.

[Download Audio: "The Early Days" - 150kb] "We didn't know very much, but that's okay... If you have an idea, just keep working at it... and you'll always work at it," Miller says. "Every day when you go in to your business (and) when you leave at night, or when you come in the next morning, it should be a little different, because you should have improved something, streamlined something, whatever."
Today, Vera Bradley Designs is approaching nine figures ($100 million) in annual sales and employs more than 120 people. As Miller proudly pointed out, one of the contestants in last night's episode of the Martha Stewart-hosted version of The Apprentice was seen hoisting a Vera Miller bag.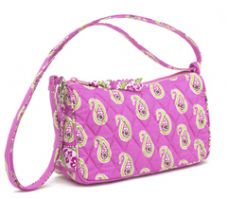 Miller told her DePauw audience of early meetings with vendors who became believers in Vera Bradley and its products, and have been aligned with the company ever since.

[Download Audio: "Relationships" - 132kb] "Doing business is all about relationships. It's like anything else -- it's the people you work with, it's how your treat them and how they treat you, and you want to do business with people that are honest, that are hard-working, that deliver for you."
The entrepreneur never aspired for a top position in state government, but a mutual friend arranged for a meeting between Miller and Mitch Daniels during the 2004 Indiana gubernatorial campaign. The two had never met before, and Miller ended the one-hour lunch by telling Daniels, "I really like you." Torn between the demands of her thriving business and the opportunity to serve the state, Miller recalls see-sawing between telling Daniels, who was elected governor, "yes" and "no."
Finally,

[Download Audio: "A Great Experience" - 109kb] "I thought, 'When will I ever have an opportunity to do something like this.' And it's just like starting a company," Miller stated. She now oversees the newly-created Indiana Economic Development Corporation and has taken a leave of absence from Vera Bradley. She calls her experience in state government "one of the best experiences" she's had.
The commerce secretary says the always-intense competition for companies and jobs is at record levels. Indiana is no longer competing with other Midwestern states, and the nation at large, for economic development projects; as Thomas Friedman's best-seller asserts, The World Is Flat, and global competition is very real, Miller says.

[Download Audio: "The New World Order" - 83kb] "We have to be creative, because we're in a race with everyone. So we have to be not only better, we have to be smarter."
Successfully marketing the state and its communities is also key.

[Download Audio: "Marketing" - 185kb] "Just like you do for your university, DePauw, be great marketers. Hoosiers are usually a little too reticent to brag. And I want you to get out there and I want you to brag about this state and how great it is
to go to school here, how great it is to live here, our lifestyle -- tell everyone what it's like. Because it is a great place and it's all about marketing," Miller declared.
Patricia Miller also called upon students -- several of whom have already started small companies -- to use their successes to help others. In 1998, after Miller and Baekgaard lost a close friend to breast cancer, they co-founded the Vera Bradley Foundation for Breast Cancer.

[Download Audio: "Giving Back" - 47kb] "This is about giving back and being a good corporate citizen," Miller told the luncheon crowd that filled the ballroom.
The Vera Bradley Foundation's first five-year, $1.2 million endowment funded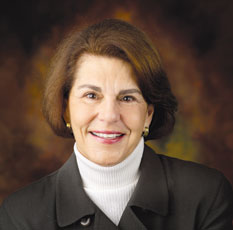 the Vera Bradley Chair in Oncology at the Indiana University School of Medicine in Indianapolis, Indiana, which is held by Linda Malkas, Ph.D.

[Download Audio: "Most Important Thing We've Ever Done" - 261kb] "She's working on early detection. She wants a blood test for breast cancer, and with her research, if you have one molecule in your body that is breast cancer -- and it's farther-reaching than that, it's other diseases as well -- you will be able to take medication and we will have a cure rate in the upper 90th-percentile... She said, 'I will have this in three years.' She's been with us a few years, she's an absolutely brilliant scientist. This could be the most important thing we have ever done."
Previous recipients of the McDermond Medal for Excellence in Entrepreneurship have included Jeff Smulyan, chairman and president of Emmis Communications; and Richard M. Schulze, founder, chairman and CEO of Best Buy.
Back