Alpha Chi Omega Founded at DePauw University
October 15, 1885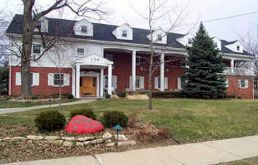 October 15, 1885, Greencastle, Ind. - The Alpha chapter of Alpha Chi Omega sorority was founded on this day at DePauw University. Professor James Hamilton Howe, then dean of the DePauw School of Music, invited seven young women from the school to attend a meeting for the purpose of forming a society. The first appearance of the seven founders -- Anna Allen, Olive Burnett, Bertha Deniston, Amy DuBois, Nellie Gamble, Bessie Grooms and Estelle Leonard -- was in Meharry Hall of East College (pictured below), wearing scarlet and olive ribbon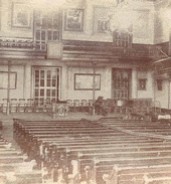 streamers attached to their dresses.
In his history of DePauw, William Warren Sweet writes that Alpha Chi Omega, "was formed primarily to promote 'the highest musical culture, and to cultivate those principles which embody true womanhood.'"
As of 2004, Alpha Chi Omega has chapters on more than 130 college campuses, 200 alumnae chapters and membership exceeding 170,000 initiated members.
Visit the Alpha chapter online by clicking here.
(top photo by Richard Feicht)
Back