Prof. Jeff McCall '76 Bemoans Media "Shrillness" on TV's O'Reilly Factor
October 18, 2005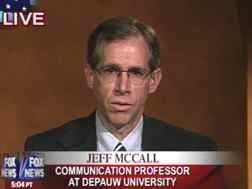 October 18, 2005, Greencastle, Ind. -

[Download Video: "The Battle for Attention" - 1400kb] "It's a very competitive media world out there, and I think there's kind of a false sense in the media now that you have to be shrill in order to get attention," Jeffrey M. McCall, professor of communication at DePauw University, said on tonight's edition of the O'Reilly Factor, which airs nationally on cable television's FOX News network. "I think that's doing a great disservice to the media consumers out there," he added.
Dr. McCall discussed a column in the Dallas Morning News that criticized host Bill O'Reilly's stance on illegal immigration from Mexico and suggested, in the host's words, that he embraces "hatred and intolerance." O'Reilly says the newspaper piece, by Macarena Hernandez, was biased and factually flawed.

[Download Video: "An Uncivil Tone" - 1132kb] "This kind of attack journalism goes on from time-to-time," McCall continued. "'Earlier this week, for example, on one of your competing cable stations out there, there was a news host that was hoping that Karl Rove would be indicted and, when he [was], that they would need to get him an extra large orange jumpsuit. That doesn't help anything."
McCall appeared with Raul Hinijosa, professor of international development at UCLA. A 1976 graduate of DePauw, Professor McCall suggested that part of the motivation for a story or column that distorts a person's position could be

[Download Video: "Chilling the Atmosphere" - 822kb] "to demonize folks who disagree with, maybe, her point of view on immigration; to try to chill the atmosphere, so to speak, so that people who disagree or have a different point of view on maybe beefing up security at the borders won't be as prone to step out and speak."
In wrapping up the lead segment of the program, which averages approximately 2.5 million viewers a night, McCall stated,

[Download Video: "Lathering Over the Facts" - 744kb] "I don't mind that this column has a lot of emotion -- immigration is an issue that deals with emotion a lot. But it shouldn't be lathered all over it. We need some facts, we need some policy analysis.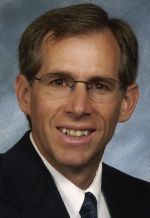 When we deal only with emotion, we're getting away from a logical discussion."
McCall, a 1976 graduate of DePauw, was last on O'Reilly's program on August 1, when he discussed the New York Times coverage of Edward Klein's book, The Truth About Hillary. A story summarizing the program, complete with video clips of the show, can be accessed in this previous story.
On Saturday, the Indianapolis Star published an op-ed in which Jeff McCall shared his thoughts on "Free Speech Week," noting that the First Amendment "is often mischaracterized and misunderstood." Read more by clicking here.
Source: Fox News Channel
Back