Prof. Bob Hershberger Co-Authors New Spanish Textbook, Rumbos
October 20, 2005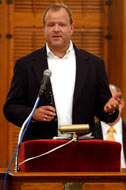 October 20, 2005, Greencastle, Ind. - Robert Hershberger, associate professor of modern languages (Spanish) at DePauw University, is co-author of
Rumbos
, a second-year textbook that has just been published by Heinle/Thomson Learning. Dr. Hershberger was the lead author of
Plazas
, a first-year, interactive Spanish textbook that allows students to hear the recorded voices of people from 15 different Spanish speaking countries, so they can learn the proper pronunciation of words and become better listeners and more understanding of cultural and regional nuances.
Rumbos "is unquestionably and far and away the best intermediate Spanish textbook I've seen," states Helen W. Webb, who teaches romance languages at the University of Pennsylvania. "The organization is excellent and the grammar explanations clear and in-depth, but it is the fresh approach to structure and vocabulary learning that will make this textbook very important. It offers readings, reading strategies and techniques, writing strategies, and information on literary genre, styles, and types integrated into and throughout the entire work. The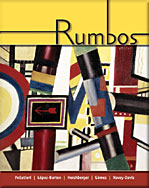 materials used in grammar explanations are often authentic, far more so than usual, and varied in type and the entire work of a chapter, in terms of vocabulary building and grammar learning, is organized around the readings or reading themes. This is contextualized learning and it is successful, far beyond anything else I have seen in intermediate textbooks."
Read more about the new book at the publisher's Web site.
Bob Hershberger also directs the directs the film studies program at DePauw. Last December he was the co-recipient of the annual Exemplary Teaching Award -- given jointly by DePauw University and the General Board of Higher Education of the United Methodist Church.  He was also given the 2004 Liberty Bell Award. The Award is given by the Young Lawyers Section of the Indiana State Bar Association, and celebrates "community service which strengthens our system of freedom under law."  
Back