Vernon Jordan '57 Provides Keynote Address at Dedication of Heman Sweatt Courthouse
October 24, 2005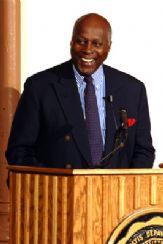 October 24, 2005, Greencastle, Ind. - "'It is appropriate that this courthouse, this house of the law, bears his name, for Heman Sweatt is a powerful symbol of the triumph of justice,' said keynote speaker Vernon Jordan, a Washington attorney and former presidential adviser who was an active member of the civil rights movement," reports the Star-Telegram of Dallas-Fort Worth. Jordan, a 1957 graduate of DePauw University, spoke at a Friday ceremony in which the Travis County Courthouse was renamed to honor Sweatt.
The Associated Press story notes, "Heman Sweatt, who died in 1982, sued the University of Texas in 1946 after the institution denied him admittance because he was black. After a four-year legal battle, the Supreme Court decision overturned the school's policy of segregation. About 300 people gathered Friday for the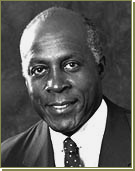 naming ceremony at the Travis County courthouse, where a Texas judge first denied Sweatt's claim. The assembled crowd included judges, lawyers and civil rights activists of all races."
Jordan, who co-chaired DePauw Discourse 2005 at his alma mater last month, "said Sweatt was a personal role model for him when Jordan assumed leadership of the National Urban League in the 1970s. At the time, Sweatt directed the league's Southern regional office. 'Heman Sweatt helped me, a much younger man, learn to be a leader,' Jordan said."
Read the complete article at the newspaper's Web site.
Back