Jim Yoder '70 Named VP at the Woods Hole Oceanographic Institution
October 26, 2005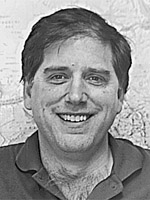 October 26, 2005, Greencastle, Ind. - James Yoder, a professor of oceanography at the University of Rhode Island Graduate School of Oceanography and 1970 graduate of DePauw University, has been appointed vice president for academic programs and dean at the Woods Hole Oceanographic Institution (WHOI). In his new position, which he assumes November 28, Yoder will be responsible for the Institution's formal and informal education programs and activities, including the postdoctoral program, the graduate program, undergraduate summer programs, and K-12 activities.
An AScribe Newswire story states, "A biological oceanographer, Yoder is well known in the oceanographic research community, having served as a researcher, professor and more recently as director of the Division of Ocean Sciences at the National Science Foundation in Washington, DC from 2001 to 2004. He has worked at NASA headquarters, been a member of numerous national and international committees and panels on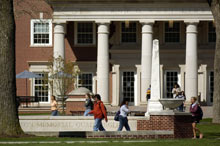 oceanographic research, taught graduate and undergraduate courses in oceanography at URI, and advised graduate students on their master's and Ph.D. theses."
"Jim Yoder brings a wealth of teaching and administrative experience in graduate education as well as a unique perspective of the ocean research community given his service at the National Science Foundation and at NASA," says Robert Gagosian, president and director of WHOI. "In those positions, he was a strong supporter not only of ocean sciences research and facilities but also of ocean science and engineering education. Jim Yoder understands the federal funding system and the challenges facing the ocean sciences community from
a number of viewpoints, and that insight will be helpful for students and researchers alike. This is an excellent addition to the senior leadership of the Institution."
The story notes, "James Yoder received a B.A. degree in botany from DePauw University in 1970, and M.S. and Ph.D. degrees in oceanography from the University of Rhode Island in 1974 and 1979, respectively." Learn more about Yoder and his new appointment by clicking here.
Back