Television and Newspaper Outlets Report on Mikhail Gorbachev's DePauw Speech
October 28, 2005
Also: "We Only Have a Common Future," Mikhail Gorbachev Tells Overflow Crowd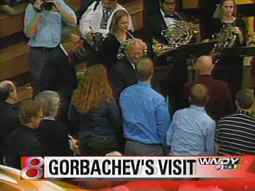 October 28, 2005, Greencastle, Ind. -

[Download Video: "WISH-TV Report" - 5830kb] "Seventy-four year old Nobel Peace Prize winner Mikhail Gorbachev was warmly received by a crowd of about 2,000 at the Lilly Center at DePauw," reported Debby Knox of Indianapolis CBS television affiliate WISH on the station's late newscasts last night. The Timothy and Sharon Ubben Lecture actually drew about 3,000 people to the athletic center which was full; another 1,000 people watched a closed-circuit television feed of the speech at Kresge Auditorium in the Performing Arts Center across the street.
"Speaking through a translator, Mr. Gorbachev touched on his past and quickly turned to what he sees as a future energy crisis and America's role in it," Knox noted.
The report included video and sound from the news conference that followed the speech:

[Download Video: "More of WISH's Story" - 3908kb]. The anchor lead-in noted that DePauw's Ubben Lecture Series has "hosted several distinguished speakers,"
including Gen. Colin Powell and Margaret Thatcher.
Indianapolis NBC affiliate WTHR also covered the event and provided a panoramic shot of the "very large crowd" that filled the Lilly Center. The segment also noted that DePauw provided a live webcast of the event.

[Download Video: "WTHR Clip" - 4272kb]
Access an Associated Press report on Mikhail Gorbachev's visit to DePauw here. Another story, in Indiana's Crawfordsville Journal Review, can be found here.
A comprehensive report on the Ubben Lecture, including video and audio clips, can be accessed here.
Back