DePauw Sells Out its Allotment of Monon Bell Tickets
October 27, 2005
Also: Pre-Order Your 2005 Monon Bell DVD
Also: Game to be Nationally Televised on DirecTV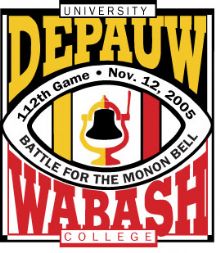 October 27, 2005, Greencastle, Ind. - It's official: the 112th Monon Bell Classic, set to be played at DePauw's Blackstock Stadium on Saturday, November 12, is effectively a sell-out. The last of DePauw's allotment of tickets for the game were sold early this afternoon.

[Download Video: "See The Ballad of the Monon Bell" 9346KB]

[Download Audio: "Hear The Ballad of the Monon Bell" 2900KB]
The series is tied 51-51-9 with DePauw holding a 35-32-6 lead in Monon Bell games after last year's 14-7 win in Crawfordsville. For the second straight year, the game will be telecast nationally on DirecTV Channel 321 and locally on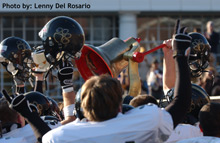 WHMB (Channel 40 in Indianapolis). Alumni parties are being planned in dozens of cities across America. You can pre-order your DVD of this year's contest and order copies of the 2004, 2003, 2002 and 2001 Bell Battles here.

[Download Video: "1997 Monon Memory" - 2985kb]
Visit the Monon Bell Web page by clicking here.

[Download Video: "2004 Monon Memory" 7774KB] An online poll at ESPN.com determined the Monon Bell Classic to be Indiana's best sports rivalry. Learn more in this previous story.
Back