Art Attack -- DePauw University's Annual ArtsFest Event for Children -- is Sunday
November 1, 2005
Also: ArtsFest 2005: Art & Shakespeare
November 1, 2005, Greencastle, Ind. - Hear ye! Hear ye! Children of all ages are invited to hang out with William Shakespeare, his wife Anne Hathaway and many of his talented friends at DePauw University's annual art event for children, Art Attack, Sunday, November 6 from 12:30 to 4 p.m. in the DePauw University Performing Arts Center. The culminating event of DePauw's 11-day arts celebration, "ArtsFest 2005: Art & Shakespeare," Art Attack promises to be an exciting afternoon of Shakespeare-inspired performances, workshops and hands-on art activities. In its fourth year, the community event is an opportunity for DePauw students to share their artistic knowledge and passions with area children. The event is free and open to all.
The Performing Arts Center will ring with activity as DePauw Theatre, DePauw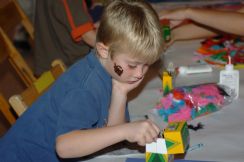 Opera, and several student organizations, honorary societies, sororities and fraternities, and talented individuals gather to host the fun-filled afternoon. Hands-on activities including book-making, a musical instrument petting zoo, make-your-own instruments, pet rock painting, quill pen-making, mask-making and more will be available throughout the afternoon.
Scheduled performances will feature DePauw Opera and several vocal performance students, the dance troupe X-CELL, the student improv group unIMPROVable, and a fencing demonstration. Also planned are a story-telling event, a poetry workshop, a participatory drum circle, and two screenings of the film Robin Hood at 1 p.m. and 2:30 p.m. presented by the DePauw Union Board.
To complete the Art & Shakespeare ex
perience, visitors are encouraged to stay on into the afternoon to attend DePauw Theatre's matinee of William Shakespeare's wonderful comedy As You Like It -- reset in America of the 1950's -- at 4 p.m. in Moore Theatre. Information and tickets to the performance will be available during the Art Attack event.
Art Attack is free and open to all. For additional information contact Gigi Fenlon at (765) 658-4485 or send an e-mail here.
Back