DePauw Faculty-Student Research Published in Annals of the Entomological Society of America
October 29, 2005
October 29, 2005, Greencastle, Ind. - Research conducted by a DePauw University professor and three of his students is published in the November 2005 edition of the
Annals of the Entomological Society of America
. Wade Hazel, professor of biology at DePauw, worked with Kate Marshall, Andie Wyatt and Nicole Stone on "Interspecific Comparison of Pupation Site Preference in Swallowtail Butterflies (Lepidoptera: Papilionidae): Implications for Evolution of Plasticity in Pupal Color." Their project was funded by a National Science Foundation grant to DePauw.
Access an abstract of their work by clicking here.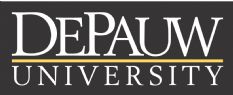 Kate Marshall, a 2004 graduate of DePauw, is currently a graduate student at the Medical College of Wisconson. Andie Wyatt, a Science Research Fellow and 2005 graduate, is now studying at the Duke University School of Law.  Nicole Stone was a a high school student when she participated in the project and is now a freshman Science Research Fellow at DePauw.
Back