Shakespeare Scholar David Bevington Speaks Wednesday Afternoon
November 1, 2005
Also: ArtsFest 2005: Art & Shakespeare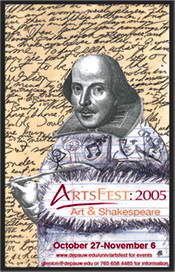 November 1, 2005, Greencastle, Ind. - David Bevington, the Phyllis Fay Horton Distinguished Service Professor in the Humanities at the University of Chicago and a world-recognized scholar of Shakespeare, will visit the campus of DePauw University tomorrow, November 2. Bevington will discuss "Shakespeare Faces Retirement" in a lecture presented by The James and Marilou Kelly Writers Series and in conjunction with "ArtsFest 2005: Art & Shakespeare." The speech will begin at 4:15 p.m. in Meharry Hall of historic East College.
In his address, Professor Bevington will examine the hypothesis that Shakespeare's last play, The Tempest, is a retirement play that reveals important insights on
Shakespeare's view of his own achievement, his reasons for retiring, and his hopes for himself and his family.
Bevington's numerous publications include Action Is Eloquence: Shakespeare's Language of Gesture, Shakespeare, and a 29-volume paperback edition of all of Shakespeare's works that he edited for Bantam Books.
Learn more about The James and Marilou Kelly Writers Series by clicking here.
Back