Non-Competitive Elections Threaten Democracy, Writes Prof. Ted Rueter in Op-Ed
November 4, 2005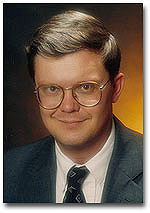 November 4, 2005, Greencastle, Ind. - "American democracy faces a crisis -- the crisis of non-competitive elections," declares Ted Rueter, assistant professor of political science, in an op-ed published in Indiana's Bloomington Herald-Times today. "More and more, American elections consist of incumbents cruising to victory," he adds.
In the last congressional election, in 2004, the professor notes that only five incumbents lost to challengers. In other words, 98% of incumbents in the House of Representatives lost their seats. "Eighty-three percent of the 435 House races were won by landslides. Nearly 90 percent of incumbents were re-elected by margins of at least 20 percent," Dr. Rueter notes. "In 14 states, every race was won by a landslide margin of at least 20 percent. Only four states recorded no landslide victories. State legislative races were even less competitive. Nationwide, 40 percent of the more than 7,000 races were uncontested."
Rueter asserts, "America's lack of competitive elections has several consequences. One is voter apathy. In 2004, nearly 1 out of 11 voters skipped their House race on the ballot, knowing that the outcome was a forgone conclusion. A second consequence is partisan polarization within Congress. Former Indiana Congressman [and 1952 DePauw University graduate] Lee Hamilton notes that 'non-competitive elections have helped fuel the incredible partisanship in Congress. When candidates can win simply by appealing to voters in their own party, there is little incentive to moderate their positions or their rhetoric, to reach toward the center or approach issues in a bipartisan manner.'"
The professor lays much of the blame for non-competitive elections on partisan redistricting. "Gerrymandering is a blatantly political exericse in which the dominant party manipulates the lines so as to guarantee its continued supremacy... One solution to the redistricting wars and non-competitive elections is to have district lines drawn by independent, non-partisan commissions guided by criteria such as respecting geographic boundaries, keeping districts compact, and enhancing electoral competition. This approach is already employed in Arizona, Hawaii, Iowa, Montana, New Jersey, and Washington State, and is on the ballot this Tuesday in California
and Ohio."
Rueter believes, "A second, complementary approach to enhancing electoral competition would be to create multi-member districts for both Congress and state legislatures. For example, a state with 20 Congressional districts could be divided into four super-districts of five seats each. Voters in these districts would vote for candidates in order of preference, ranking as many (or as few) as they wished. The threshold of victory would be established to allow for only five winners."
Read the complete essay at College News.org.
Learn about Ted Rueter's other recent columns here, here, here, here, and here.
Back