Campus Technology Profiles DePauw and Innovative Software Started by Prof. Dave Berque
November 2, 2005
November 2, 2005, Greencastle, Ind. - "Three institutions profiled here -- the University of California-Santa Barbara; DePauw University (IN); and Dutchess Community College (NY) -- have recently turned to solution-provider partners for assistance with groundbreaking IT strategies and technology rollouts," notes an article in the November issue of Campus Technology magazine. "In each case, the partnerships resulted in impressive victories on and off the ledger sheet, and innovations that have dramatically changed daily operations and function on each campus."
The story details the partnership between a DePauw professor and a company named DyKnow, and the resulting technology that is now being used to enhance learning on campuses across America.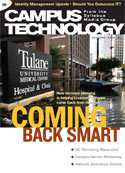 "It all started in the late 1990s, when Dave Berque, a DePauw professor of computer science, set out to find a way to get students to do more in class than simply take notes," Matt Villano writes. "Berque hit the drawing board and developed prototype pen-based software designed to allow teachers and students to solve problems collaboratively through software that works across a host of devices including desktops, laptops, PDAs, and tablet PCs. Soon, Berque was piloting his software in his own classes, using his students as focus groups to tweak and test the product in order to iron out the kinks."
The text notes how Dr. Berque modified his software so that it allowed students to send notes back to their instructors. "In more recent iterations, for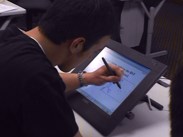 instance, instructors can pose problems to the students, and students can use their pens to sketch or detail solutions in real time. Another feature, DyKnow Monitor, allows instructors to limit the applications students can run during class, or even 'blank out' student screens, if there is a need to do so. In this age of Internet surfing and instant messaging, the goal is to minimize distractions (now a critical issue) and help students focus on the subject at hand."
Berque tells the magazine, "As I tried the software on my own students, I realized that interactivity was only part of the equation. In order to keep students involved, you first need to be able to make sure they're paying attention to you."
Professor Berque's idea grew legs in 2002, the story points out, when David Becker, a high tech entrepreneur and 1975 graduate of DePauw, "caught wind of Berque's technology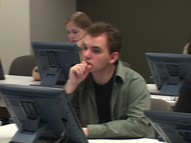 and decided to finance the software to build a company around it. The company, Dynamic Knowledge Transfer LLC, or DyKnow (based not far from DePauw in Indianapolis) licensed the program from Berque and began preparing it for market, hiring technologists to improve and expand the software here and there. Berque a consultant for DyKnow, was charged with evolving the educational focus. The company even partnered with DePauw to support the widespread testing of Berque's product in other areas of the University in economics, for instance, to help students with graphs, and in Japanese language classes, where stroke-by-stroke replays of Kanji characters help students understand how to construct the symbols."
2003 saw the release of a commercial version of the software, known as the DyKnow Software Suite. "Under the terms of the relationship, DyKnow committed to continue to work closely with DePauw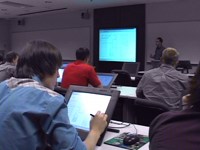 to improve the software every year, an arrangement that benefits both entities: DyKnow gets valuable data from its users about how the software works, and DePauw students get to use the software in class, free of charge. Other benefits of the partnership include constant input and feedback to the DyKnow team from DePauw students and faculty, beta testing of future releases of DyKnow at DePauw, research projects at DePauw that can inform DyKnow project development, internships and full-time job opportunities at DyKnow for DePauw students, and hosting DyKnow user group meetings at DePauw."
Villano states that "Other schools now take full advantage of the primary DePauw/DyKnow partnership... and DyKnow Software Suite deployments... are now found in learning environments at elementary, secondary, graduate, and post-graduate levels in many states," as well as a number of college campuses.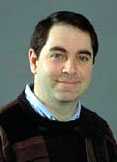 The article concludes, "Today, Berque says he 'can't believe' how far his software program has come, and hails his relationship with DyKnow as a key accelerator for the application's enthusiastic acceptance in the world of academic technology."
The complete text can be found online at the magazine's Web site.
The work of Dave Berque, who was named the 1997 U.S. Professor of the Year for baccalaureate colleges by the Council for Advancement and Support of Education, has been featured in stories by a number of media outlets, including CNN and USA Today. You can read more here, here and at ABCNews.com. Also available is a video that shows Professor
Berque and the system in a classroom setting:

[Download Video: "See The Video" 1427KB].
DePauw is among the "Top 50 Most Unwired College Campuses," in a survey of all institutions of higher learning -- big and small -- sponsored by Intel Corporation. DePauw is ranked #30 -- the highest of any liberal arts college in America -- in the report, which appeared in the October 17 edition of U.S. News & World Report. More than 1,000 campuses were included; only 50 made the final list. Survey findings are based on the percentage of campus that is covered by wireless technology, the number of undergraduate students and the computer to student ratio for each school.
Back