Investor's Business Daily Editorial Questions Mikhail Gorbachev, Writes of His Speech at DePauw
November 3, 2005
Also: "We Only Have a Common Future," Mikhail Gorbachev Tells Overflow Crowd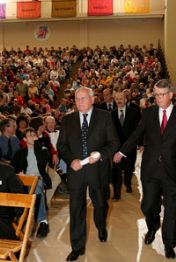 November 3, 2005, Greencastle, Ind. - Mikhail Gorbachev 'just completed his 'Perestroika 20th Anniversary Tour,'" notes a column in Investor's Business Daily. "Before a capacity crowd at DePauw University in Indiana, he said America's intervention in Iraq was 'a blow to the alliances and the partnerships that the United States has in the world, a blow to international law, a blow to democracy.' He also warned of future wars between rich and poor nations over water shortages, and charged that world leaders suffer from a 'paralysis of political will' and are 'still stuck in the past century.'"
The "Issues & Insights" editorial continues, "That followed his appearance in Washington before personalities ranging from Clinton to Shirley MacLaine, where he declared the Soviet Union did not lose the Cold War. Rather, both the USSR and the U.S. were winners. 'I would not be making a mistake to say that perestroika won,' Gorbachev contended. 'It succeeded.' But he's wrong. The restructuring Gorbachev envisioned for the countries that made up the expansionist Soviet empire did not succeed. What succeeded were the forces for freedom that took
advantage of his failed attempt to salvage communism."
Access the complete text by clicking here (a paid subscription may be required).
DePauw.edu's report on Mikhail Gorbachev's address, "Security and Environment: The Challenges of the 21st Century," includes many photos and video and audio clips.  You'll find it here. Other stories detail other media coverage of the Timothy and Sharon Ubben Lecture, and the DePauw students who questioned Gorbachev onstage.
Back