Two Guest Performances, November 6 & 8, to Add International Flair to School of Music
November 3, 2005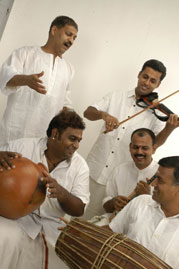 November 3, 2005, Greencastle, Ind. - The DePauw School of Music will present two internationally-acclaimed musical acts when the classical Indian music of the Srinivas Krishnan Ensemble (seen at left) performs Sunday, November 6, and the Croatian organ and percussion duo Attaccantilena visits the DePauw Performing Arts Center on Tuesday, November 8. Both visits are a part of the DePauw School of Music's Guest Artists Series and are free and open to the public.
"These outstanding groups show the School of Music's commitment to providing a broad and diverse musical experience for our students and the larger community," says Paul Musser, director of marketing for the DePauw School of Music.
Sunday, November 6 at 8 p.m., the Srinivas Krishnan Ensemble will present a program entitled "Strokes of Concern," which will feature percussionists and artists from the tsunami hit area of South India. Occurring on the final day of DePauw's ArtsFest, the event will take place in Kresge Auditorium and is co-sponsored by the University's Asian studies department. Led by master Indian percussionist Srinivas Krishnan, this concert will display the charms of classical Indian music in a relaxed and open setting that should entertain both the amateur and connoisseur.
The School of Music will welcome the organ and percussion duo Attaccantilena, Tuesday evening, November 8, as part of the ensemble's Fall 2005
North American tour. Consisting of professors Igor Lesnik, percussion, and Mario Penzar, organ, from the Music Academy of Zagreb, Croatia, this duo has won international acclaim for their impeccable musicianship and technical skill. The DePauw concert will begin at 7:30 p.m. in Kresge Auditorium and will feature works by Lesnik, Serge Folie, Johann C. C. Fischer and Henry Purcell.
In addition to the recital, Professor Lesnik will conduct a percussion master class on Tuesday, November 8 at 11 a.m. with Professor Penzar leading an organ master class on Wednesday, November 9 at 7 p.m. Both of these events will also take place in Kresge Auditorium and are free and open to all.
Visit the DePauw University School of Music online here.
Back